Tandem skydiving is by far the most popular way to experience freefall for the first time, as it allows for the student to experience what jumping from an aircraft and falling towards the earth at 120 mph feels like in the most efficient way possible.
A tandem skydive refers to when two people, a student and an instructor, jump while harnessed together (piggy-back style) using a single parachute system. On the front, the tandem student can simply soak up the experience – while on the back the tandem instructor handles the technical stuff such as deploying the parachute and flying you back to the landing area. This method of skydiving has existed since the early 1980s, and we have gotten very, very good at making it an incredible way to get started.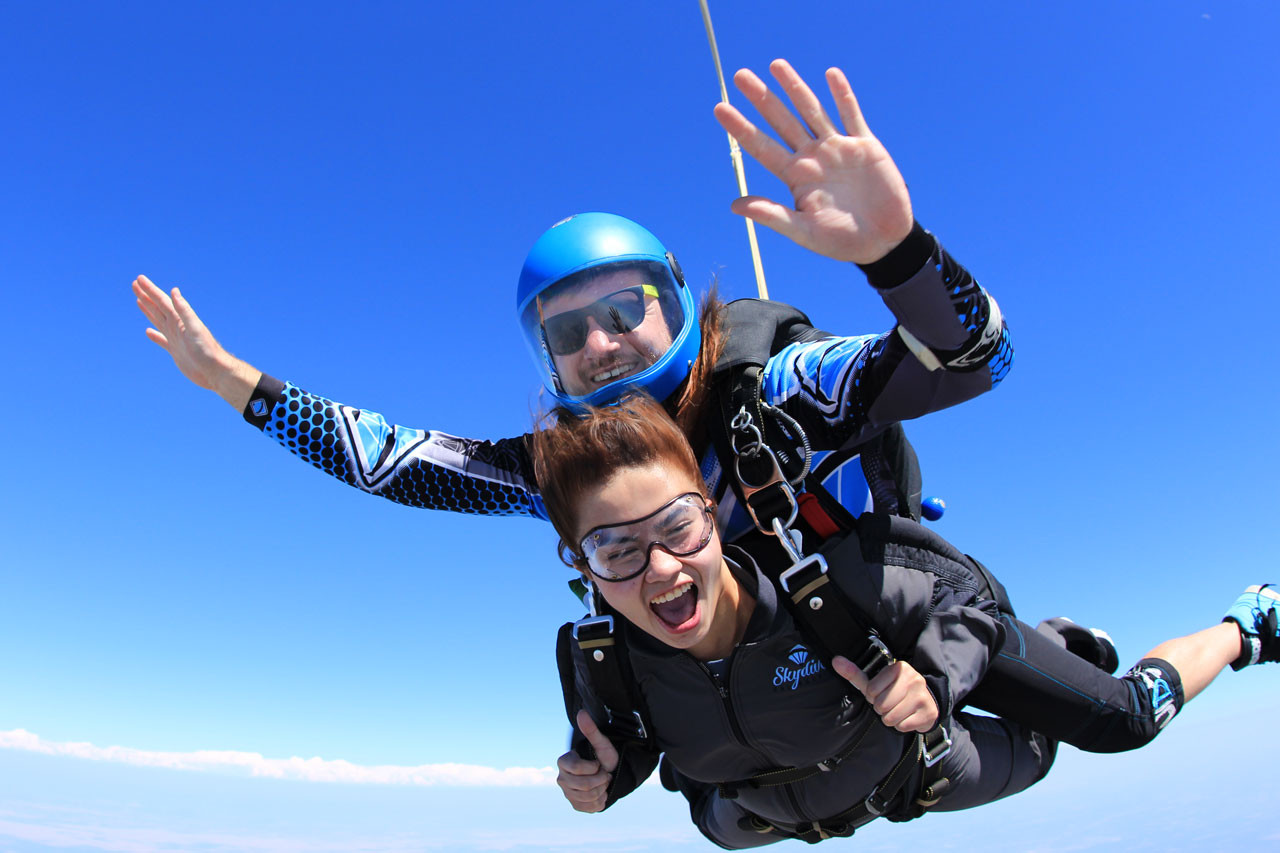 Emotions
When you go skydiving for the first time, a lot is going on in your brain. It is normal to be nervous, but by the time you get on the plane you will be distracted from your jitters by all the activity – the views, the clean fresh air, and the heightened excitement of what you are about to do. As soon as you jump, there is only the feeling of total freedom and the most spectacular views of the planet you might ever see. Many experienced skydivers will freely admit that their initial jump was the best of all, and it is quite possibly that first tandem that hooked them into the sport forever.
Training
The pre-flight briefing for a tandem skydive is quite quick – usually taking around 20 minutes. A tandem student performing their first skydive is required to carry out some simple but important duties so everything goes smoothly, such as correctly exiting the plane and assuming a nice stable body position in the air. Tandem instructors can do all of the work, but plenty of effort is made to avoid this as the very best tandem skydives are performed by the pair of people working together. Your tasks are a straightforward, but vital, contribution.
Student Status
A tandem skydive is not a ride, it is an active and engaging adventure that can very likely be one of the most exciting and memorable experiences of your whole life. Although the process has been revised and refined over the decades to make tandem jumps as efficient and accessible as possible, you are considered as much of a skydiving student as anyone. The information you're given and tasks you are presented with are important foundational techniques – ones you'll build on should you choose to pursue your A License.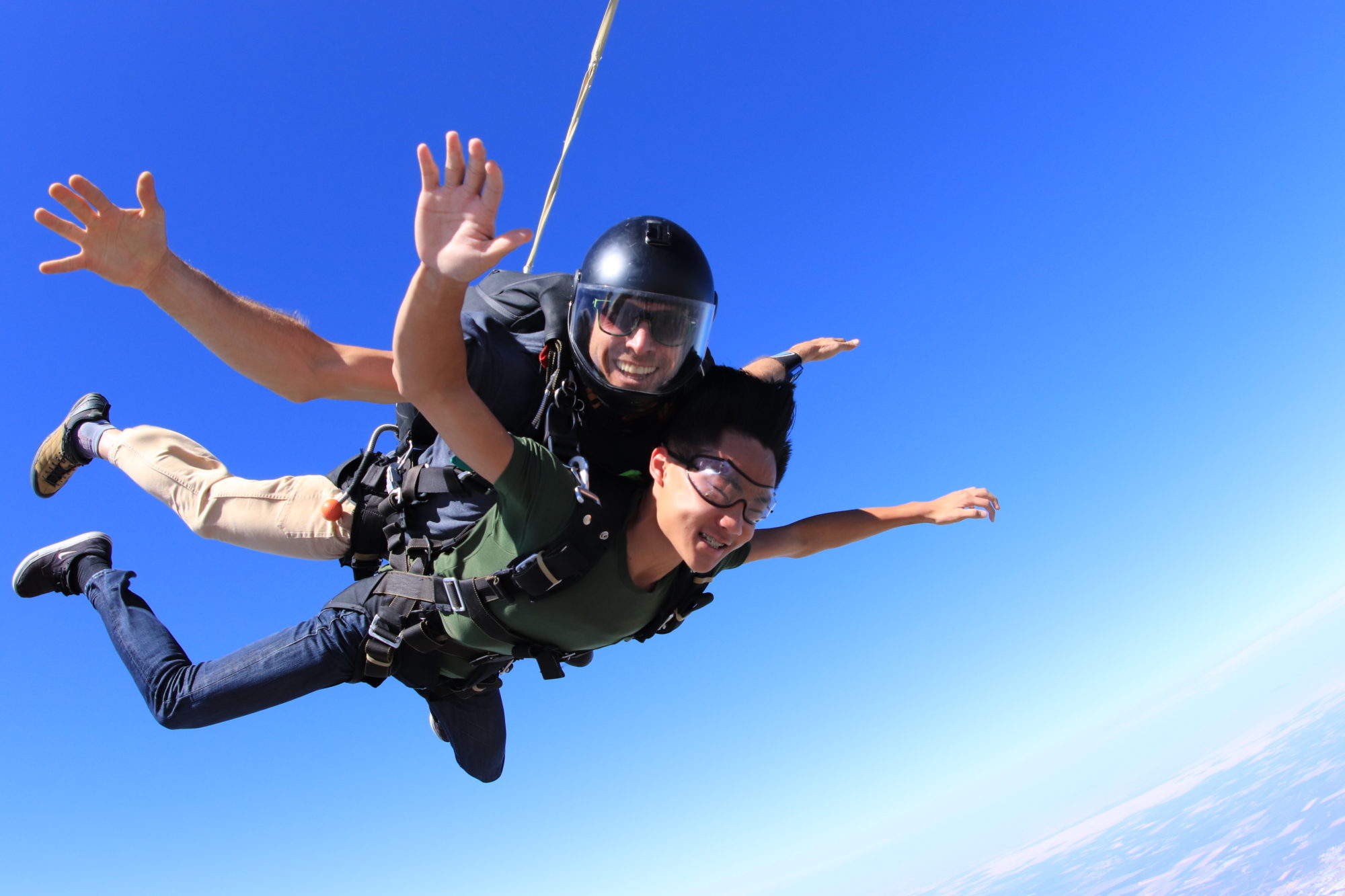 Information
Tandem instructors are some of the most highly qualified skydivers in the game and are an amazing source of answers for all those questions rattling around in your head. Your instructor is with you every step of the way, and will happily provide you with a running commentary about the things going on around you – from airplanes to parachutes and back again. Once you have experienced what skydiving feels like, you'll likely want to introduce other people to the sky – and will very well understand why tandem instructors are happy to answer everything you want to know. They do this because it is amazing to see people step up to the challenge and earn the rewards that this amazing sport can provide, and they want you to get the absolute most from it.
Many dropzones recommend doing a tandem skydive as your first jump as it is simply the best way to understand what skydiving is about in an affordable, informative, and awesome way. It is not mandatory and, if you are committed to getting a skydiving license of your own, it is possible to sign straight up for an Accelerated Freefall Course (AFF). At least one jump as your first tandem experience without the pressure of extra tasks and additional training sets you up well for all the things to come, though, and there are many fine reasons why starting out tandem skydiving is a good idea.
Ready to fly? Let's go!