Northern California is one of the most competitive areas in the US for skydiving. That's why we pride ourselves on being uniquely different from the rest. But what is it that sets us apart from other skydiving centers in the San Francisco Bay Area? Well, it requires much more than just an airplane and some parachutes. It's the passion and great care that goes into every moment of your experience that makes a lasting impression. That's why Skydive California is consistently rated as one of the best places to go skydiving in the world, let alone in the San Francisco Bay Area.
How We're Different - Exceptional Service
When doing your research for tandem skydiving centers in the Bay Area, it's important to know what you're looking for. Not all skydiving centers are the same. Each dropzone has its own safety record, certifications, and customer satisfaction reviews. Here is what you should be looking for when researching "skydiving bay area" or "skydiving san francisco:"
Read Reviews: View the average ratings and read the negative reviews. Pay close attention to how the business has responded to those reviews.
Search Related News: Research any news articles that have been published about the dropzone.
Call or Visit the Dropzone: The best way to gauge the vibe and professionalism of a dropzone is to actually call or visit the dropzone and speak directly to the staff.
Check Credentialing: Research the dropzones website and see if they are regulated by a governing body such as the United States Parachute Association (USPA). This gives you an idea of the safety precautions and the quality standards they must uphold.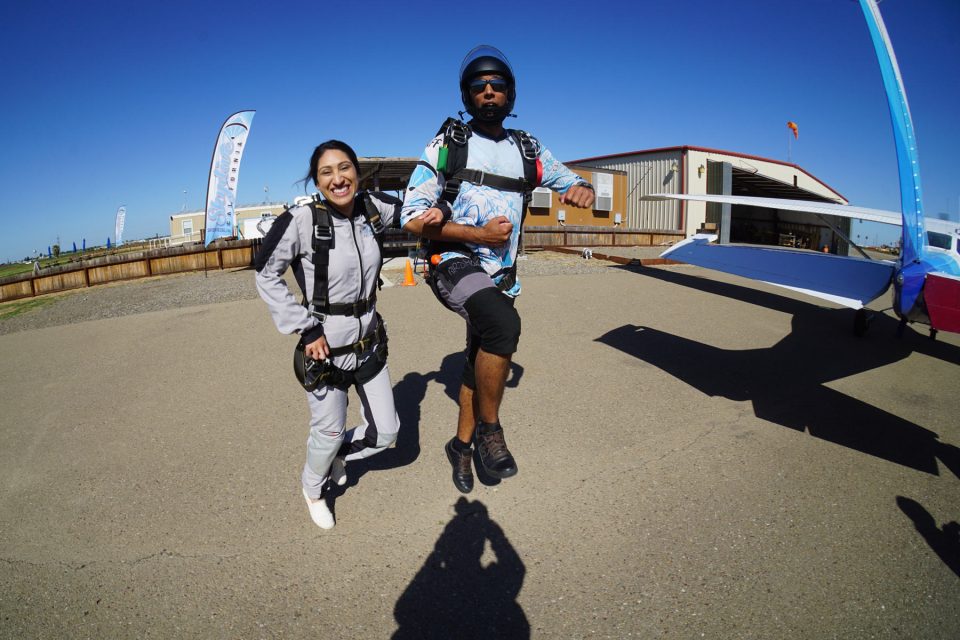 At Skydive California, we are proud to have an excellent 4.9 star review average out of 372 Google reviews!
Tandem Skydiving in The Bay Area - Do Your Research
As we said, the competition for skydiving in San Francisco is so intense that the prices for a tandem skydive are some of the least expensive in the US. The lowest tandem skydiving prices aren't always better in this case. In tandem skydiving, you definitely "get what you pay for" and with our competitive pricing at Skydive California, we guarantee a high-quality and safety-focused experience from start to finish. We set our prices in a way that doesn't limit our ability to ensure well-maintained equipment, professional/clean facilities, and happy staff!
Here are some tandem skydiving prices in the San Francisco Bay Area:
| San Francisco Area Skydiving Dropzones | Prices - Weekend / 13,000' |
| --- | --- |
| Skydive Hollister | $198 |
| Bay Area Skydiving | $228 |
| Silicon Valley Skydiving | $228 |
| Skydive California | $229 |
Location
Skydive California, Kasson Road, Tracy, CA, USA
Ready to Get Started?
If you're looking for a life-changing skydiving experience near San Francisco, we hope you'll consider us! We'd love to host you for your tandem skydive, teach you how to skydive solo or, if you're a licensed skydiver, fun jump with you! We're passionate about what we do and sharing the sport we love with those wishing to step out beyond their comfort zone.