Hello and welcome to Skydive California! It's likely you've found us if you're searching for 'skydiving San Francisco' or 'skydiving Bay Area' – whatever search term that led you to his page, we're glad you're here!
Skydive California is one of many dropzones offering tandem skydiving in San Francisco and the Bay Area, but we're proud to say we're uniquely different from all the others. In this article, we'll share how we're different, and what you should know before booking a tandem skydive, compare prices for skydiving in San Francisco and details about our location.
How We're Different - Exceptional Service
In 2017, Skydive California's owner Aaron Steele won the 'Best Dropzone Owner' award by the readers of Blue Skies Magazine, and there is a reason for this. Steele has built Skydive California with the Golden Rule in mind – treat others as you wish to be treated. Aaron is recognized as one of the kindest and most thoughtful dropzone owners in the United States – his staff feel appreciated as do all of our first time guests. With many dropzones in the area to choose from, it's a testament that many experienced skydivers from the Bay Area bypass closer skydiving centers to experience the good vibes felt within the culture of Skydive Cal. Because of this open and welcoming community spirit, the energy is positive which makes the experience of skydiving even better especially for our first time guests who will feel completely welcomed and comfortable while participating in an unfamiliar world like skydiving.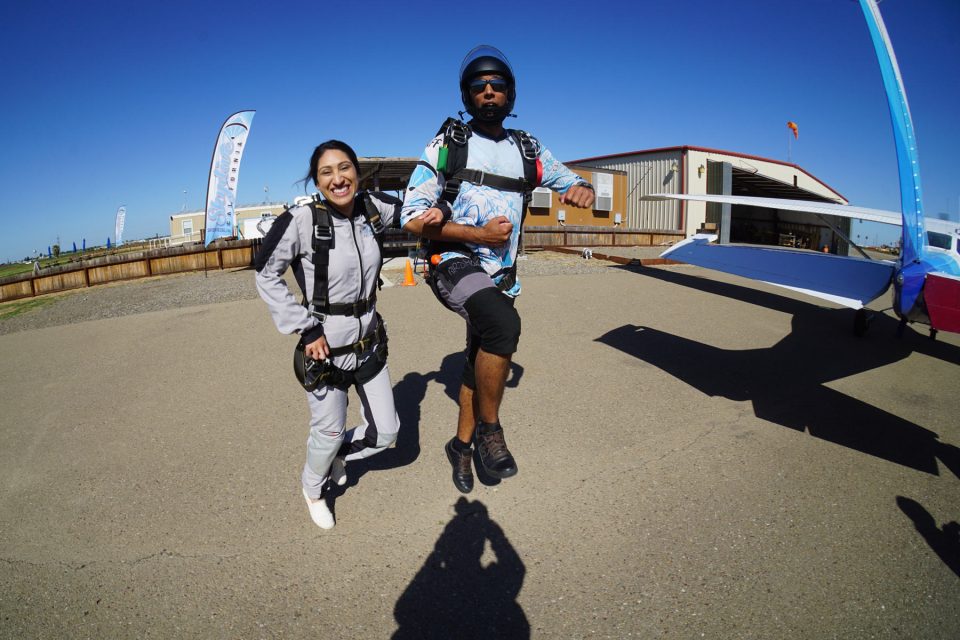 What To Know When Booking a Tandem Skydive
It's important to know that skydiving centers are like restaurants – some are okay while others are exceptional. A great skydiving experience extends beyond the simple act of exiting a plane, free falling and landing just as a great dining experience goes beyond the taste of the food. Skydiving centers all have different safety cultures, volume, facilities, aircraft, and staff and these aspects play a major role in the enjoyment of a skydive. Because there isn't a Consumer Reports on the variables that make a great skydiving experience, many first time skydivers tend to book their tandem skydives based on proximity (the dropzone closest to you) and price (usually the lowest price), and it's the opinion of many within the skydiving industry that you do your research. Just as you wouldn't try to find the cheapest heart surgeon, you shouldn't try to find the cheapest skydive in San Francisco. To allow for easy navigation, we've listed the prices for tandem skydiving in the Bay Area further below.
Tandem Skydiving in The Bay Area - How to Do Your Research
There is no shortage of places to go tandem skydiving in the Bay Area, but as mentioned, not all skydiving centers are the same. Each skydiving center has its own safety record, and customer satisfaction reviews. When doing research we recommend the following:
| Research | Action |
| --- | --- |
| Check Google Reviews | View the average star rating in comparison to the volume of reviews. If there are negative reviews, read how the business has responded. |
| Google Search under 'News' | Conduct a Google Search and then select the 'news' tab to see if there have been any published articles about the dropzone. |
| Call the Skydiving Center | Call the skydiving center to get a feel for their professionalism. |
| Visit the Skydiving Center | If you're wishing to be thorough, visit the skydiving center - you'll learn a lot by viewing first hand the professionalism of the staff as well as the condition of the facilities. |
| View Other Reviews | Be thorough, check the reviews on Dropzone.com, Facebook, Yelp and Tripadvisor. |
At Skydive California, we are proud of having an excellent rating in relation to the number of reviews we've received! 272 Reviews with a 4.9 average rating.
San Francisco - Tandem Skydive Prices
Because of the intense competition for skydiving in the Bay Area, the prices for skydiving in Northern California are some of the least expensive in the United States. Throughout the US, tandem skydives usually range from $199 to $259, but as you'll see, it's on the lower end for skydiving centers near San Francisco due to strong competition. This is definitely great for the consumer, but bear in mind skydiving is not a cheap endeavor to operate particularly as it involves the maintenance of aircraft and parachute equipment. Extremely low price operators usually do extremely high volume which is another factor to consider when considering the kind of skydiving experience you desire.
Skydive California offers skydiving prices near San Francisco comparable to our competitors and we feel our pricing allows us to be responsible by taking care of all of our gear and equipment, team, facilities while ensuring our staff aren't burnt out by doing such high volume that customer satisfaction is affected.
To allow consumers a quick navigation for all available tandem skydiving prices near San Francisco, we're providing the table below:
San Francisco Tandem Skydiving Prices*
| San Francisco Area Skydiving Dropzones | Prices - Weekend/ 13,000' |
| --- | --- |
| The Parachute Center - Lodi | $150 |
| Skydive Hollister | $198 |
| Bay Area Skydiving | $199 |
| Go Jump Santa Cruz | $199 |
| Skydive California | $199 |
Our Location
As you'll discover, there isn't any actual skydiving in San Francisco. Because of the need for clear airspace, all skydiving operators near San Francisco and the Bay Area are outside of the city limits away from the heavy commercial traffic taking off and landing at San Francisco International Airport (SFO). Because of this, our location is based in Tracy, California. Skydive California does offer transportation from San Francisco to our location. Please be sure to request this when making your reservation!
Skydive California, Kasson Road, Tracy, CA, USA
Ready to Get Started?
If you're looking for a life changing skydiving experience near San Francisco, we hope you'll consider us! We'd love to host you for your tandem skydive. We're passionate about what we do and sharing the sport we love with those wishing to step out beyond their comfort zones.