BUY THE TICKET, PREPARE TO TAKE THE RIDE: WHAT TO EXPECT DURING YOUR TANDEM SKYDIVE
Regardless of whether tandem skydiving in California has long been on your bucket list or you've suddenly developed the itch for adventure, your first jump will be tandem. Simply stated – you will be harnessed to a super-experienced and highly credentialed skydiving instructor who will guide you through the entire jump. To get you prepped for your big day, here's a play-by-play of what to expect:
SIGN IN, SIGN UP, GET SCHOOLED
First things first: paperwork. Check in at the office to sign in, complete a waiver and pay your way. Don't forget to bring a valid, government-issued photo ID to prove you're at least 18. It's here that you'll decide on purchasing a photo and/or video package to document your experience. (Seriously, get both; you will not regret it.) Next stop is skydiving ground school where you'll get an overview of the day and learn who does what.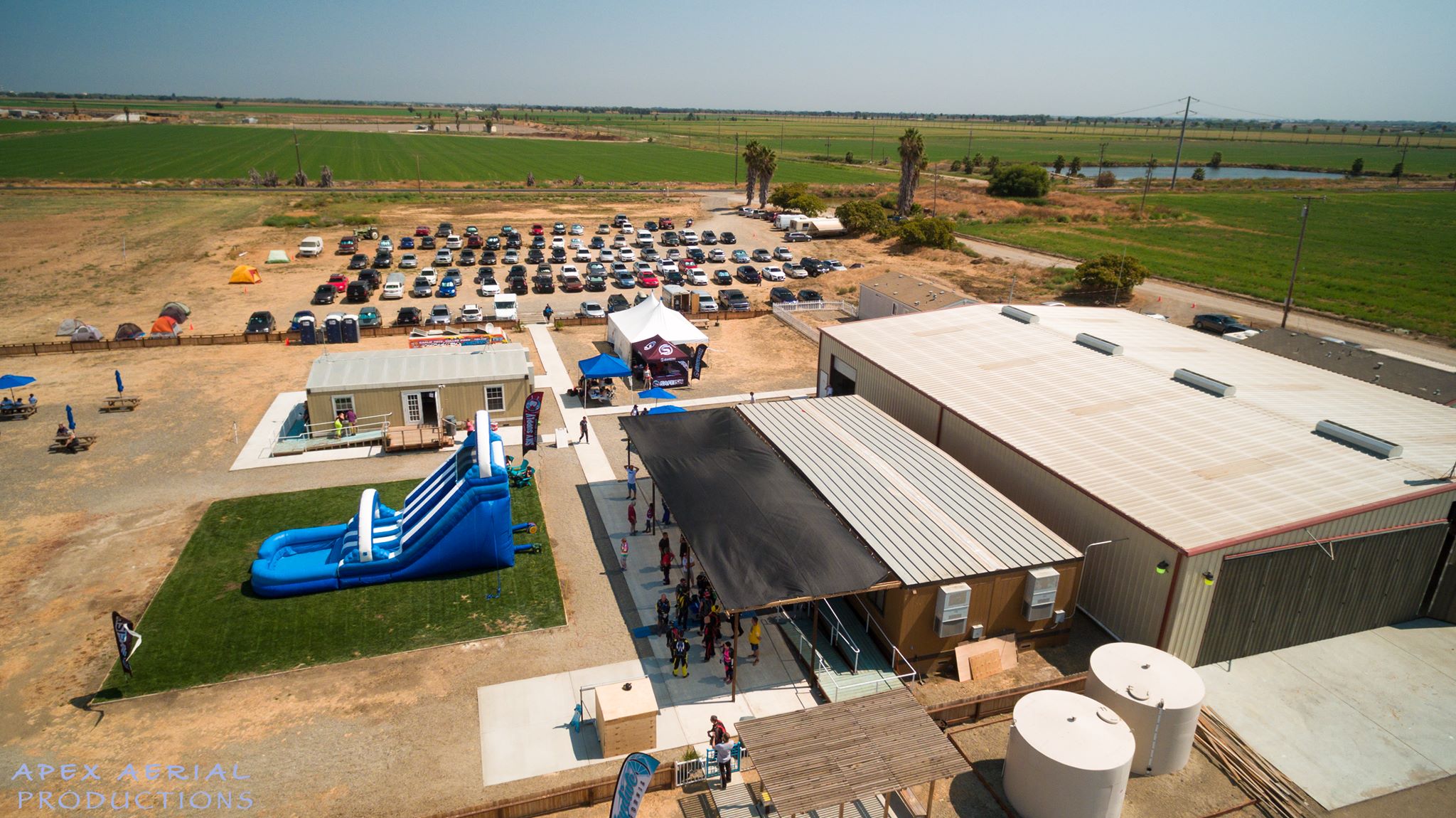 PLAN TO SPEND THE BETTER PART OF THE DAY WITH US
The act of skydiving – from plane wheels up to feet back down – takes less than an hour. But a couple of factors can lengthen the experience by just a bit or sometimes a bunch:
Skydiving centers often share airspace with other non-commercial vessels; taking turns can make scheduling a bit more fluid.

Weather conditions have to be near perfect for take off. Wind, rain and poor visibility can ground operations.
Pack your patience and a cooler (keep blood sugar up and hydration in check) and trust that delays are for good reason. Above all else: safety first.
MEET YOUR INSTRUCTOR
Ahead of getting tethered together, you'll meet your tandem instructor. To be an instructor, you have to be mega experienced – at least 500 solo jumps, a minimum of three hours in freefall, and licensure with the US Parachute Association. You and your instructor will be fast friends – s/he will answer your questions, hype you up and help you get your head in gear, physically guide you in the plane and in the clouds, and essentially be your spirit animal. Skydiving is life for these guys and unless you're on one of the first few loads (planes), s/he has likely been sky-high several times already for the day.
DRESS THE PART
When your number's coming up, you'll be called to get your skydiving gear on. Some dropzones allow you to wear your harness over your clothes, others require that you wear a jumpsuit over your clothes. Either way, you'll be helped into the skydiving harness, as well as a pair of cool-kid goggles. If you purchased video package when you checked in, once kitted up the videographer will do a quick pre-flight interview.
ENJOY THE RIDE
Jumpers will be loaded into the plane in order so that tandem instructors sit directly behind their students. This is no commercial airline, so the engine noise will be loud, but you'll quickly tune it out as you take in the scenery on the ascent to 13,000 feet over the course of about 20 minutes. When the time is right, your instructor will clip into your harness and shimmy with you to the door.
TAKE THE PLUNGE
When it's your turn to jump, the instructor will triple-check that everything's good to go – making sure you're over the landing area and safe to exit – and then it's time to fly. You'll exit the plane with your instructor, performing what you learned during ground school. If you bought the video package, your videographer will exit first so s/he can capture your glorious leap into the big blue.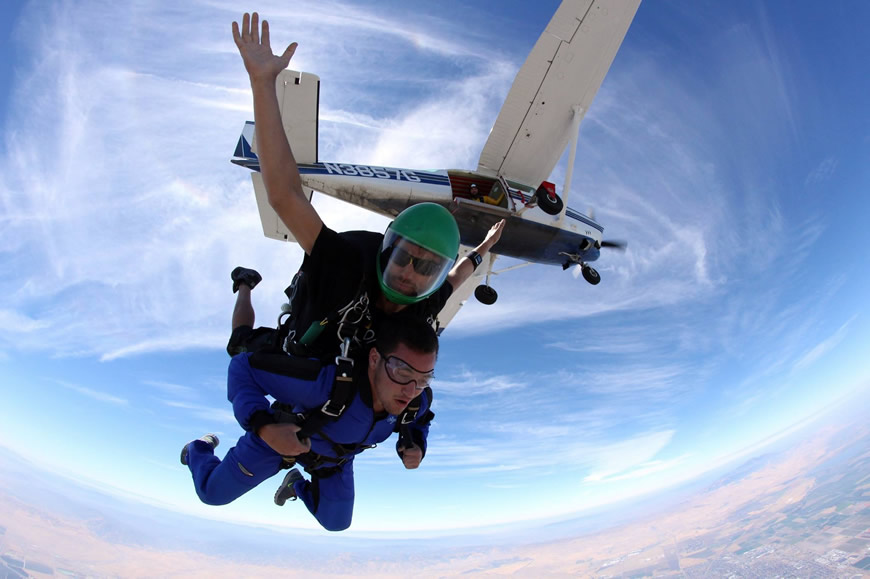 Immediately, you'll be in freefall. Traveling through the sky at 120 mph, the wind resistance will make you feel like you're floating more so than falling and time will become irrelevant. Freefall will last only about one minute, but it will feel like no time and forever concurrently. Every part of the experience is awe-inspiring, but the high both novice and seasoned skydivers feel during freefall is the holy grail that will keep you jumping.
SAIL INTO HOME
During freefall, your instructor will carefully monitor your altitude. Around 5,500 feet from the ground, s/he will open the canopy (parachute) and you'll experience something altogether different. You'll have time to look around, soak in the gorgeous Northern California vistas and even talk with your instructor. This chapter of the story lasts between four and eight minutes, depending on how you and your instructor choose to descend. Your videographer will sail on down with you, recording your journey and your joy.
TOUCH DOWN
Landing takes a little choreography. So far, your instructor has done all of the work – this is where the job you learned during ground school comes in. Lift your legs up and tuck your arms in so your instructor has the space s/he needs to flare (slow) the canopy way down. Your instructor's feet should be the first to touch the ground.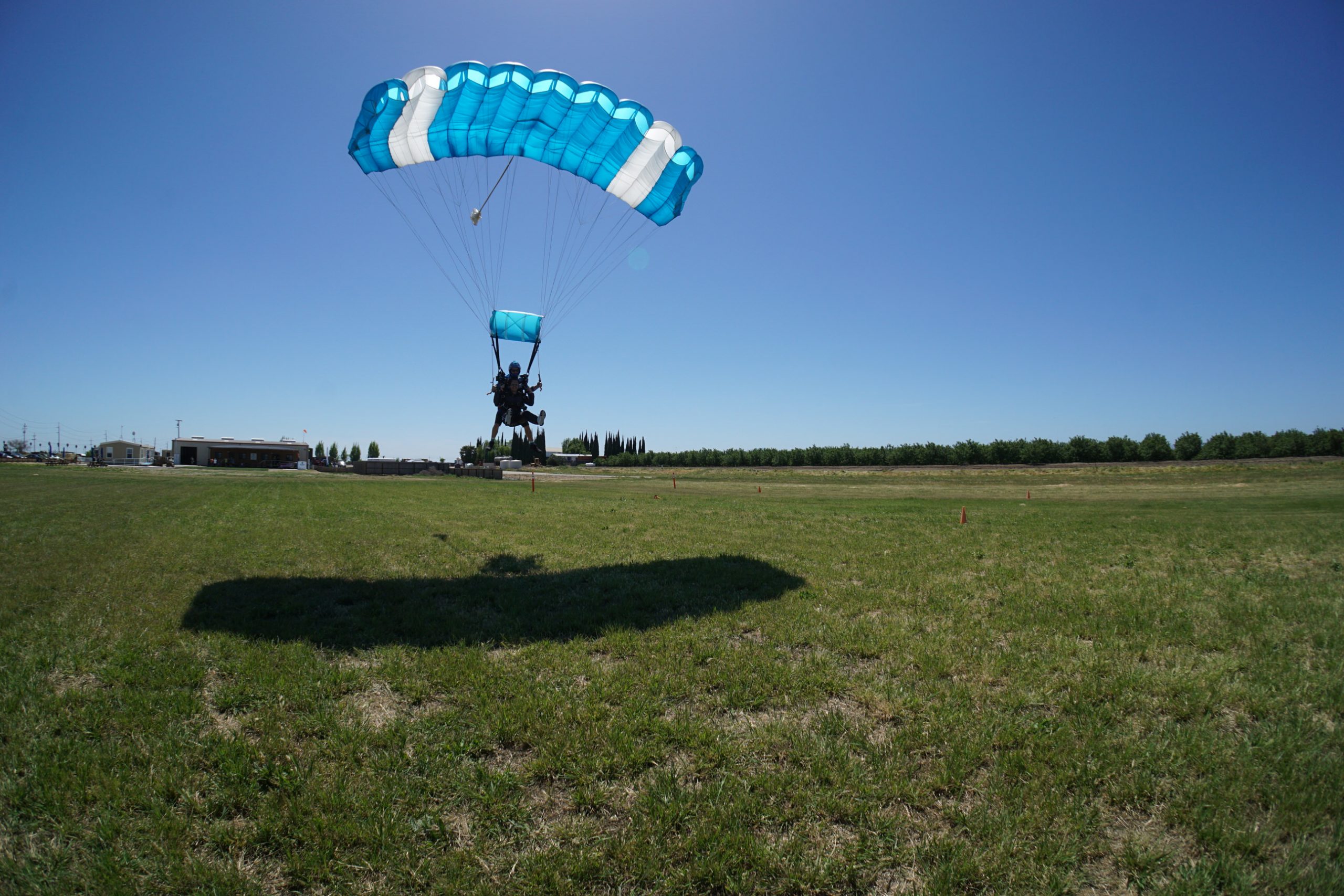 CELEBRATE!
Once unclipped, you are free to freak out and celebrate what you've just accomplished. Veni, Vidi, Vici – You Came, You Saw, You Conquered! YOU SKYDIVED!! Your videographer will catch all of your antics and conduct a quick final interview, and then send your footage for editing so you can watch it obsessively and show everyone you know.
Boom! You're ready. If you're near in the Bay Area in Northern California, then come tandem skydiving with us at Skydive California!