If you're thinking about making a skydive, you've likely got lots of questions about the entire experience! We've chatted with our customer service team to gather the most common (and not so common) questions about the skydiving experience. Here are answers to the questions you want to ask or may be too afraid to ask!
Skydiving Questions – Preparing for Your Skydive
How Safe is Skydiving?
According to the United States Parachute Association (USPA), an individual is more likely to be killed by a lightning strike or from a bee sting than dying during a skydiving accident. Skydiving isn't perfectly safe (we are jumping from an airplane after all), but many people have found the risk to be acceptable based on the statistics. To put this into context, there were 11 skydiving fatalities in 2020 out of 2.8 million skydives made in the US. The majority of these fatalities were related to highly experienced jumpers and not tandems. The ratio of tandem student fatalities in the US is one per 500,000 jumps made (on average over the past 10 years).
| | | | |
| --- | --- | --- | --- |
| Year | US Skydiving Fatalities | Estimated Annual Jumps | Fatalities per 100,000 Jumps |
| 2020 | 11 | 2.8 Million | .39 |
| 2019 | 15 | 3.3 Million | .45 |
| 2018 | 13 | 3.3 Million | .39 |
| 2017 | 24 | 3.2 Million | .75 |
| 2016 | 21 | 3.2 Million | .66 |
| 2015 | 21 | 3.5 Million | .60 |
| 2014 | 24 | 3.2 Million | .75 |
| 2013 | 24 | 3.2 Million | .75 |
| 2012 | 19 | 3.1 Million | .61 |
| 2011 | 25 | 3.1 Million | .81 |
| 2010 | 21 | 3.0 Million | .70 |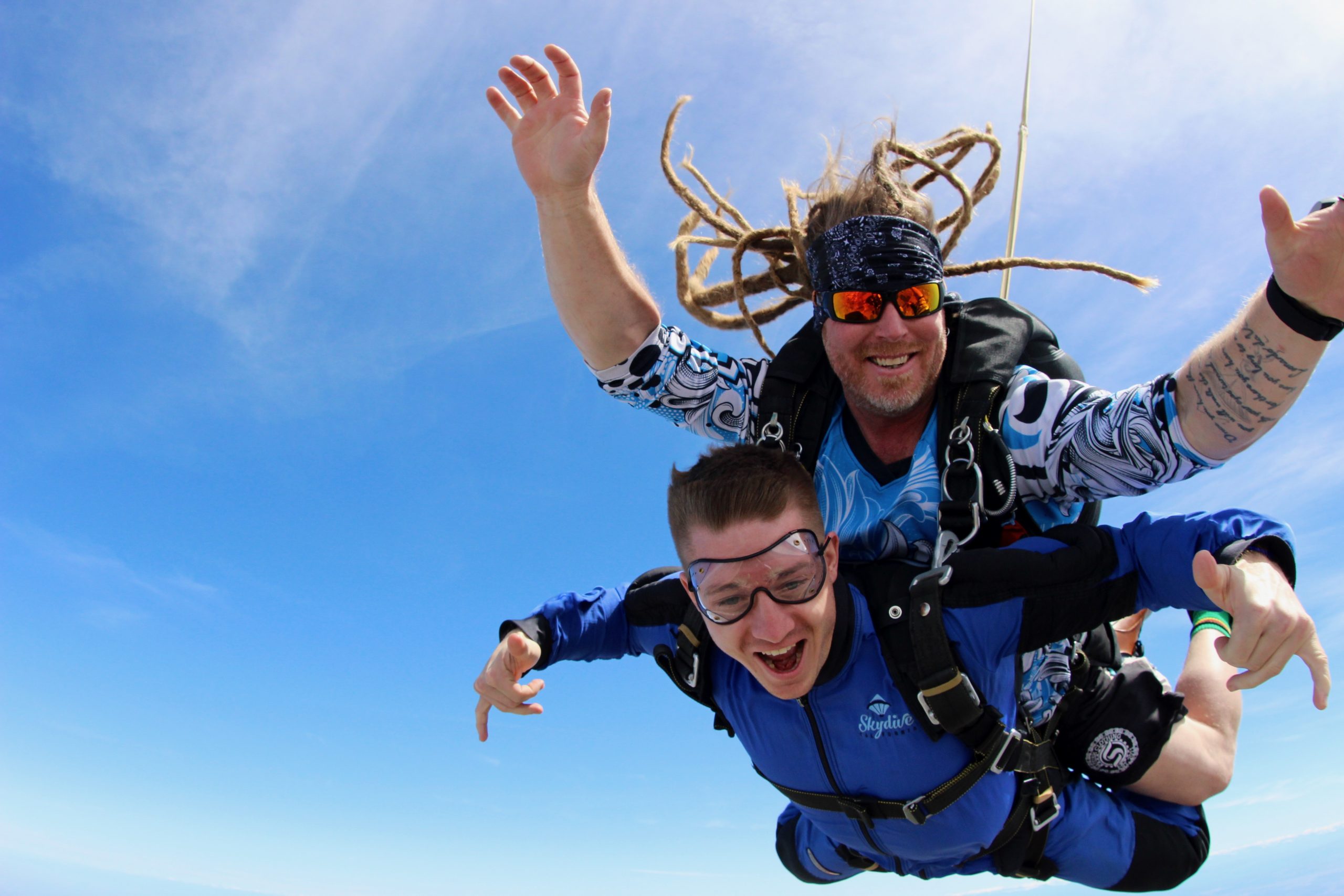 Are you a member of the USPA?
We are proud members of the United States Parachute Association.
How much does a skydive cost?
The cost of a tandem skydive varies by dropzone and by state. Generally speaking, prices range from $169 through $300. At Skydive California, we have different prices depending upon the day and altitude. You can view our skydiving prices here. 
Do you offer any discounts for skydiving or offer Groupon?
At this time, we do not. Operating a major aircraft and life-saving parachute equipment while also paying our staff a fair wage leaves us with little room for discounting. We all love a good deal, but we are committed to offering value by ensuring our guests have the best possible experience life has to offer.
Are there any age restrictions related to skydiving?
The minimum age requirement for all USPA-member skydiving centers is 18 years of age. There are a couple of skydiving centers in the US that allow minors to skydive, but they are few and far between.
At Skydive California and the majority of skydiving centers around the US, the minimum age requirement is 18.
There is no maximum age restriction, however, anyone making a skydive at any age should be in good physical shape to take on the adventure!
Are there any physical requirements needed to make a skydive?
If there is any question as to whether you should make a skydive because of health concerns, it's pertinent to check with your doctor. Participants should be physically fit with some flexibility. Participants making a skydive will be crouching in the door of the aircraft and will be required to be flexible enough to get in an "arched" position during free fall and have the core strength to lift one's legs during the landing sequence (this is important to avoid injury).
Should there be any question regarding physical limitations, it's advised to schedule a time to visit the dropzone for an assessment to determine if making a skydive is a wise choice.
What should you wear for your skydive?
Dressing for a skydive is similar to dressing for a long walk on a cool morning.
Tennis shoes
Long pants or leggings
Short or long-sleeved tee shirt depending on the temperature
A fleece that you can take off should you get warm (again if it's cool)
The items of clothing you'll want to avoid are any potential snag hazards. Work boots with speed hooks are a no-no. Loose and baggy clothing isn't recommended either. Also, for ladies with long hair or men with long beards, it's important to use a hair tie to contain your hair from the 120 mph winds speeds to prevent your hair from shielding your instructor's field of vision.
Can I wear my glasses during my skydive?
Yes, you can. Skydive California provides its guests with a goggle that fits over an individual's glasses. Guests wearing contact lenses can also skydive – we'll provide a low-profile goggle that will keep the wind out of your eyes and your contacts intact.
How clean are your skydiving facilities?
One of the major things we're most proud of is the cleanliness and professionalism of our facilities. Many dropzones operate in run-down facilities and tend to focus more on just the activity of skydiving. We have built a dropzone that our licensed skydivers are proud to call home and that our first-time jumpers will feel comfortable.
I have a fear of heights… should I skydive?
Of course, everyone's level of acrophobia (the fear of heights) varies, but you'd be surprised to learn how many licensed skydivers and first-time jumpers can enjoy a skydive despite having a fear of heights. It seems counterintuitive, but the difference between looking out on the horizon at 13,500 feet is not as stressful as looking over the railing of a bridge. It is possible to skydive if you have a fear of heights!
Can my friends come out to watch?
At Skydive California, spectators have always been welcomed! During the pandemic, we are limiting the number of spectators, but this number varies based on CDC guidelines. Please contact us directly to get the most up-to-date restrictions on spectators. Hopefully, we'll be back to normal operations, soon!
If my booking time is 1:00 pm, what time should I arrive?
This isn't like going to a doctor's office (it's way more fun!), so no need to show up any earlier than your actual booking time – if you're scheduled for 1:00 pm, then showing up at 1:00 pm is perfect.
How experienced is my tandem instructor?
Becoming a tandem instructor is not an easy task! The minimum requirements to become a tandem skydiver are as follows:
Have a minimum of 500 jumps
Have spent at least three years in the sport
Must have a D-license (the highest license in the sport)
Attain a current FAA Class-3 Medical certificate to prove they are in good health!
Earn training on the specific tandem parachuting system they are jumping
Will I get sick if I eat before my skydive?
Believe it or not, you're more likely to get sick if you don't eat before your skydive. A skydive is a major adrenaline rush that often results in a drop in blood sugar if a person has not eaten. That drop in blood sugar will leave you worse off than feeling hangry – expect nausea or even vomiting. It's important to eat before a skydive – just don't overeat. Stopping at In-N-Out for a 4×4 burger isn't recommended, but having a light meal like a turkey sandwich is recommended.
Skydiving Questions – During The Skydive?
What kind of aircraft do you fly?
At Skydive California, we fly one of the most popular skydiving aircraft in the industry – a Cessna Caravan.
What if my parachute doesn't open?
There is a possibility that the main parachute may experience a "malfunction." In the event of a parachute malfunction, each tandem parachuting system is equipped with a "reserve" parachute. Should the tandem instructor determine that the main parachute is unsafe to land, she can jettison the main parachute and deploy the reserve parachute.
What if my tandem instructor passes out during free fall?
Believe it or not, this scenario is taken into account with today's incredible skydiving technology. Each tandem parachuting system is equipped with an automatic activation device or "AAD". An AAD is a small computer system that measures speed and altitude. If a tandem pair descends past a safe deployment altitude at a high rate of speed, the computer will automatically deploy the reserve parachute (pretty cool, right!).
Can I take my GoPro with me on a skydive?
Unfortunately, no. The USPA mandates that no skydiver (first-time tandem student included) with less than 200 jumps can jump with a camera. Tandem students have an active role to play during the skydive. Tandem students must be focused on their responsibilities during the jump as opposed to focusing on their camera.
Will I poop my pants?
We get asked this question a lot. While we suppose it's possible, no one has admitted it and we've not seen any evidence of it. The truth of the matter is that the skydiving experience is only scary when preparing to exit the aircraft. Once you've exited the plane, it's more fun than it is scary!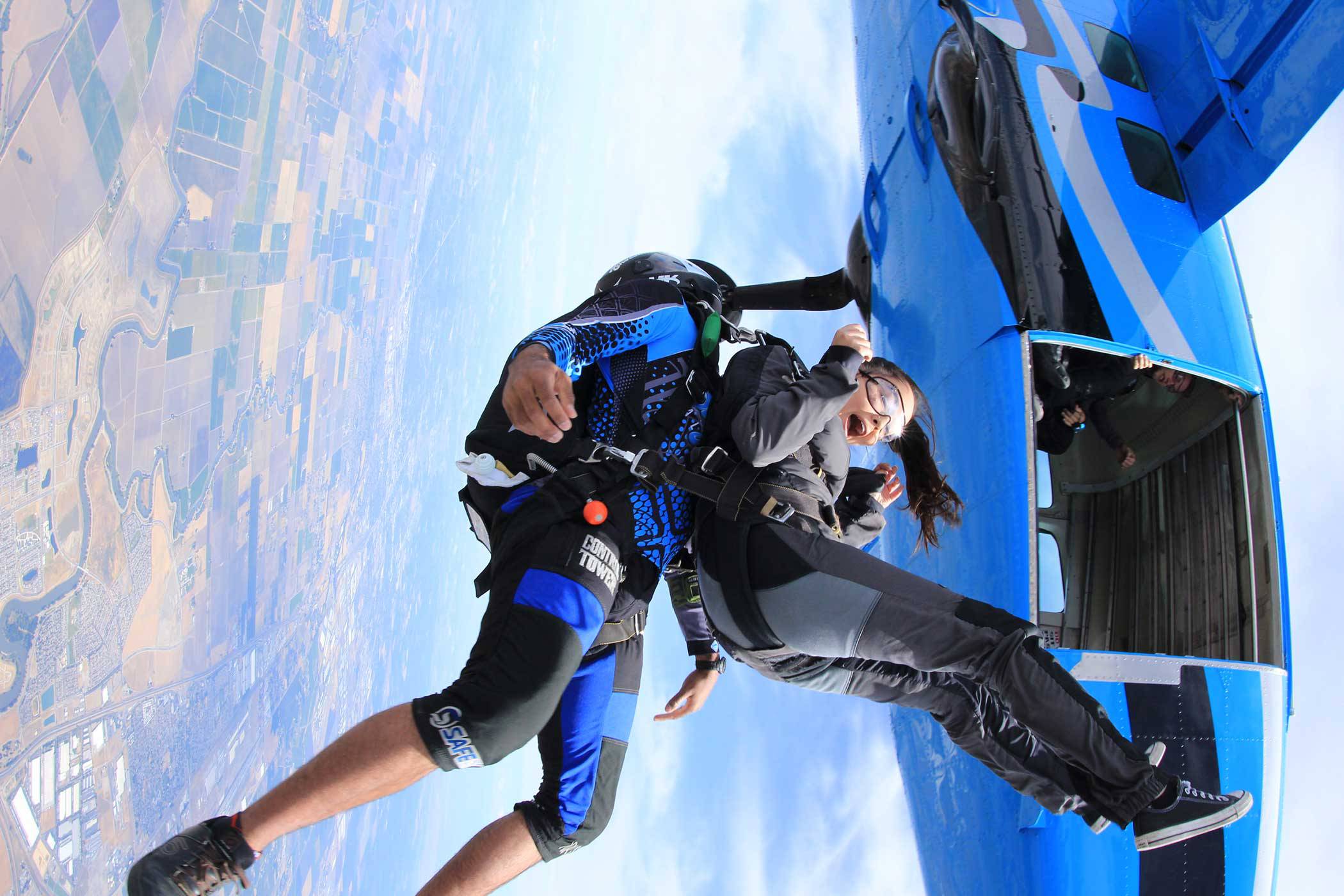 Can you breathe during a skydive?
Yes, you can. Some people do comment that they couldn't breathe during the skydive, but this isn't entirely true. When exiting it's not uncommon for the experience to "take your breath away", whereby the student is engaging their core so hard that it feels as if they are unable to breathe. Many instructors recommend that tandem students yell or scream during free fall as it will force you to draw a breath!
Will you pass out during the skydive?
Passing out is a possibility, and when it happens it's usually during the parachute ride due to the individual not having eaten before the skydive (eating and being hydrated before your skydive is very important). Passing out during free fall is also a possibility but rarely happens and is usually due to an individual's medical condition and not due to the skydive itself.
What if the door opens and I don't want to jump? Will the instructor push me out?
No, you will not be forced to jump. If you make it clear that you don't wish to jump, no one will force you out. If you decide not to exit, you and your instructor will ride the plane down (no shame in it). Do note, refunds are not available should you choose not to jump. As they say in the skydiving industry: "You pay for the ride up, not the ride down."
Is getting the video really worth it?
100% yes! (we're not saying this because it generates more revenue). Skydiving is truly one of the greatest events in your life and having photos and videos of the event is something that most people cherish. It's totally worth it.