IS SKYDIVING SAFE AND HOW DANGEROUS IS SKYDIVING?
People who excitedly share their plan to skydive with others tend to be met with one of two responses:
1) Awesome! I've always wanted to do that!! or 2) Are you crazy? You won't catch me jumping out of a perfectly good plane.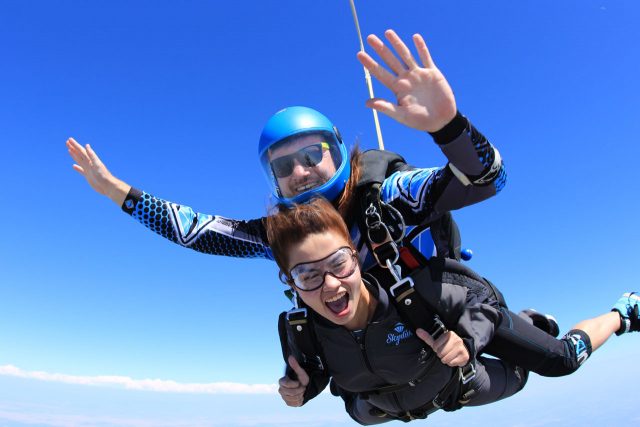 Of course, we're in camp #1. Everything skydiving-related is awesome in our book. But why are the camp #2 people so prevalent? Are we, in fact, cray?? No! The theory driving the crazy vote is rooted in fear. There's a commonly-held belief that skydiving is dangerous. Like, you-might-die kind of dangerous. And you may be wondering, Is skydiving safe and how dangerous is skydiving?
Skydiving is dangerous in the same way that you might be struck by lightning running from the bus stop to your door in a storm … or that you might never come up for air if you SCUBA dive on your honeymoon … or that you might not survive your morning commute down 80.
Most everything in life – especially experiences that result in enormous reward – involves calculated risk.
Let's Run the Numbers on Skydiving Safety
According to the United States Parachute Association, which is hyper focused on safety, the sport is consistently improving its safety statistics.
Of the 3.2 million jumps recorded by USPA-member dropzones in 2017, 24 resulted in a fatality. Stated another way, 1 in 133,571 jumps involved fatal accidents. When considering tandem jumps, the ratio is even more anxiety relieving – 1 in 500,000 jumps involved fatal accidents. Non-fatal injuries are more common. Last year, over 2,585 skydiving injuries – or 1 in 1,240 jumps – required medical attention.
How Skydive California Measures Up
Skydive California is proud to have a clean-as-a-whistle skydiving safety record. No one has had so much as a broken ankle under the watch of DZO Aaron Oehrle-Steele and his highly experienced team of instructors who, together, have more than 100,000 combined jumps.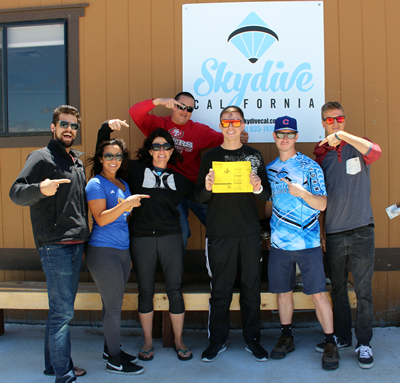 And they haven't just jumped a lot, they're credentialed to the gills. Every member of the instruction team is certified to coach, and all are either certified to take tandem students or train Accelerated Free Fall (AFF) candidates or both. They each have thousands (upon thousands) of hours in the sky. Talk about being in good hands …
Ready to Jump Out of a Perfectly Good Plane?
Yeah, we thought you might be. Get in touch and we'll make it happen – 209-835-7474 or info@skydivecalifornia.com. We can't wait to take you sky-high. Blue skies!