Skydiving is life-changing.
As long as SAFETY is #1!
Okay, maybe that sounds corny but it's true! And in all seriousness – the skydiving weight limit can be a somewhat frustrating topic as it may seem that skydiving weight restrictions are based on unfair and biased beliefs. Nothing could be further from the truth – the weight limit for skydiving is based on safety reasons ONLY. Weight limits protect you and all others involved in your skydive.
Just like Skydive California has a minimum age limit of 18 years old, there is also a maximum weight limit. There is technically no weight minimum (although, the gear has to fit properly, of course), just as there is no age maximum. Restrictions and weight limits are important, so let's take a look at how these weight limits are determined and why they're set in place!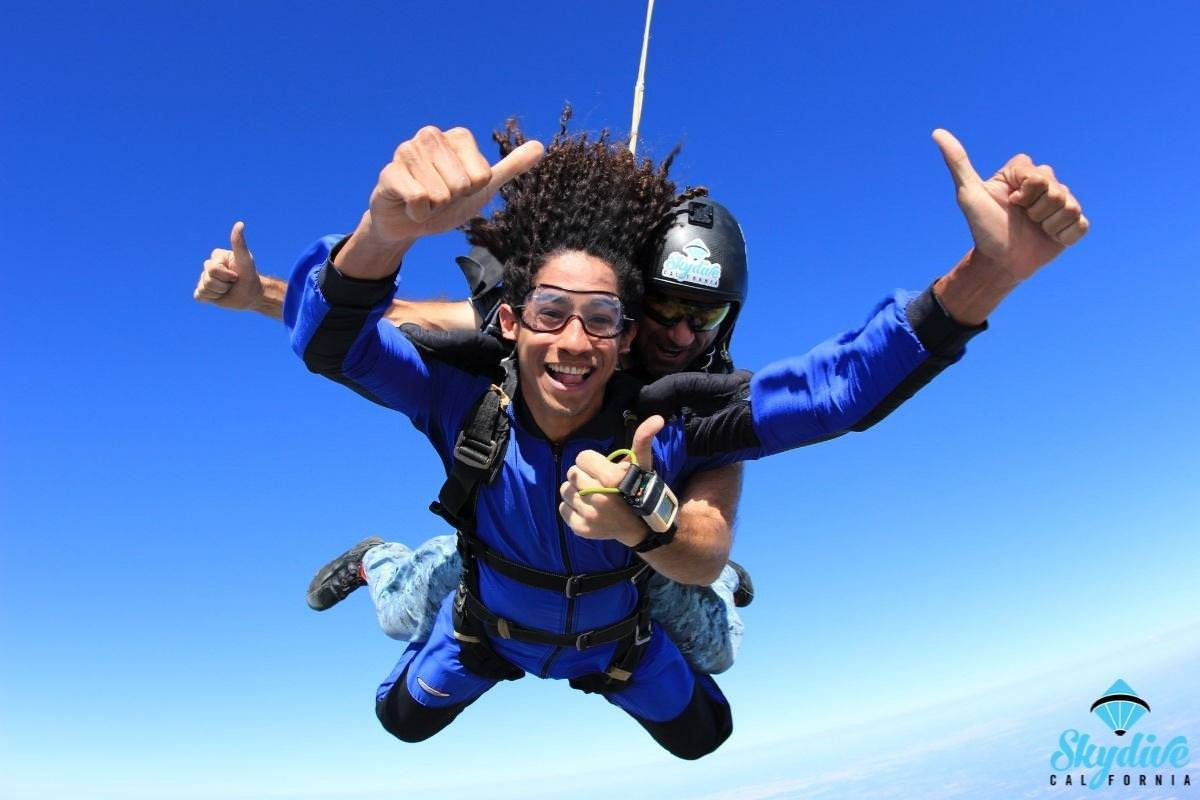 THE AVERAGE TANDEM SKYDIVING WEIGHT LIMIT
The weight limit varies by dropzone depending on the type of skydiving gear being used, the weight of the instructors, and other factors. Most skydiving centers publish a tandem skydiving weight limit around 220lbs. Tandem skydiving weight restrictions in the US usually range anywhere from 225lbs to 275lbs.
WHAT IS THE WEIGHT LIMIT AT SKYDIVE CALIFORNIA?
At Skydive California, our weight policy has a little bit of flexibility. To make a tandem skydive with us, you must weigh less than 225lbs. However, we will try to make an exception depending on body proportions and physical fitness level, at the instructor's discretion. This means that we may require an on-site evaluation to determine if you're cleared to jump.
If it is decided that the weight limit can be waived, there will be an additional $20 fee that will be paid directly to your instructor.
HOW ARE SKYDIVING WEIGHT LIMITS DETERMINED?
The skydiving weight range is determined by a couple of factors which are determined either by the dropzone or the big dogs outside of our operation. These criteria include:
Proper Tandem Harness Fit
After you check in for your skydiving reservation, you will be fitted into a tandem harness by a certified instructor. The harness is designed to fit a wide range of body types, however, there is a cap on how far the straps can stretch. If we are not able to achieve a proper tandem harness fit, you will not be permitted to make the skydive due to the risk of jumping with an improperly fitted harness.
Gear Manufacturer Weight Restrictions
The skydiving equipment we use has specific weight limits that are determined by the Technical Standard Order (TSO) which comes directly from the Federal Aviation Administration (FAA). Each product has its own specific TSO that is determined with thorough testing. Most tandem skydiving equipment can withstand a TOTAL weight of 500lbs – which means your weight and the weight of your tandem instructor has to be added together.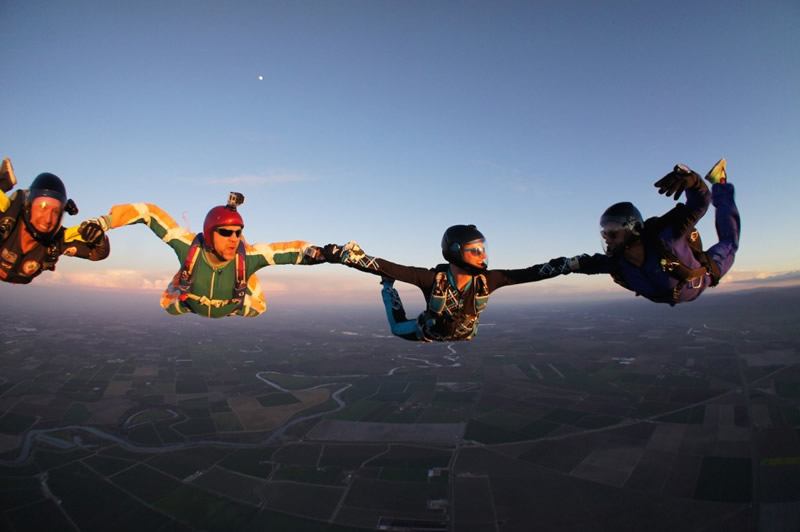 WHY IS THERE A SKYDIVING WEIGHT LIMIT?
There's nothing we want more than for every person to experience the dream of human flight, but when it comes to certain safety precautions, we simply cannot budge. Disregarding the weight limits is not only a violation of our five core principles, but it can also have serious consequences that just aren't worth the risk. For example, the increased weight could cause a very hard (and painful) parachute opening due to the increase in fall rate, which could cause injuries.
Having too much weight underneath the canopy could impact the parachute's performance. Don't get us wrong, our instructors are quite strong, but it requires a significant amount of strength to flare the parachute with significant weight attached to you. Your instructor will need to properly flare the parachute to execute a smooth and safe landing. So not only is it a potential to harm yourself during landing, but it can become an extreme strain on your instructor.
Not to mention, these weight restrictions are usually set by organizations outside of our realm of control. Skydive California is a proud member of the United States Parachute Association (USPA) and follows all standards set by the FAA. 
These weight limits and restrictions are measures that are determined purely for safety reasons and are NOT based on irrational prejudices. Perhaps skydiving can be a source of inspiration if you've been thinking about wanting to shed a few pounds – and what a perfect way to celebrate your accomplishments!
Have more questions about our skydiving weight limit? Contact a Skydive California team member today! Blue skies.