If you're Googling for tips on what to wear for your first skydive then that means you've decided to make the leap! Congratulations – we think you're going to love it! As in any life-changing activity, it's important that you are safe, comfortable and, you'll likely agree, look good doing it!
In this article, we'll share everything you need to know about dressing for success when slaying your first-time skydiving experience.
What To Wear Skydiving For The First Time
The key elements to consider when planning what to wear skydiving are as follows:
Be Comfortable – clothing should not restrict movement.
Avoid Baggy or Loose Clothing – loose-fitting or baggy clothing can be a snag hazard or restrict the vision of the tandem student or the tandem instructor.
Stay Warm – jump altitude is usually between 20°F and 30°F cooler than ground temperature; dress accordingly.
| | |
| --- | --- |
| What To Wear Skydiving | What Not To Wear Skydiving |
| Comfortable Clothing like Athleisure | Very Tight Clothing |
| Clothing You Can Layer | Very Baggy Clothing |
| Running Shoes or Tennis Shoes | Cowboy Boots, Boots with Hooks, Heels, Flip-Flops |
| Long Pants: Jeans, Yoga Pants or Joggers | Shorts |
| Under Armor in Winter | Under Armor in Summer |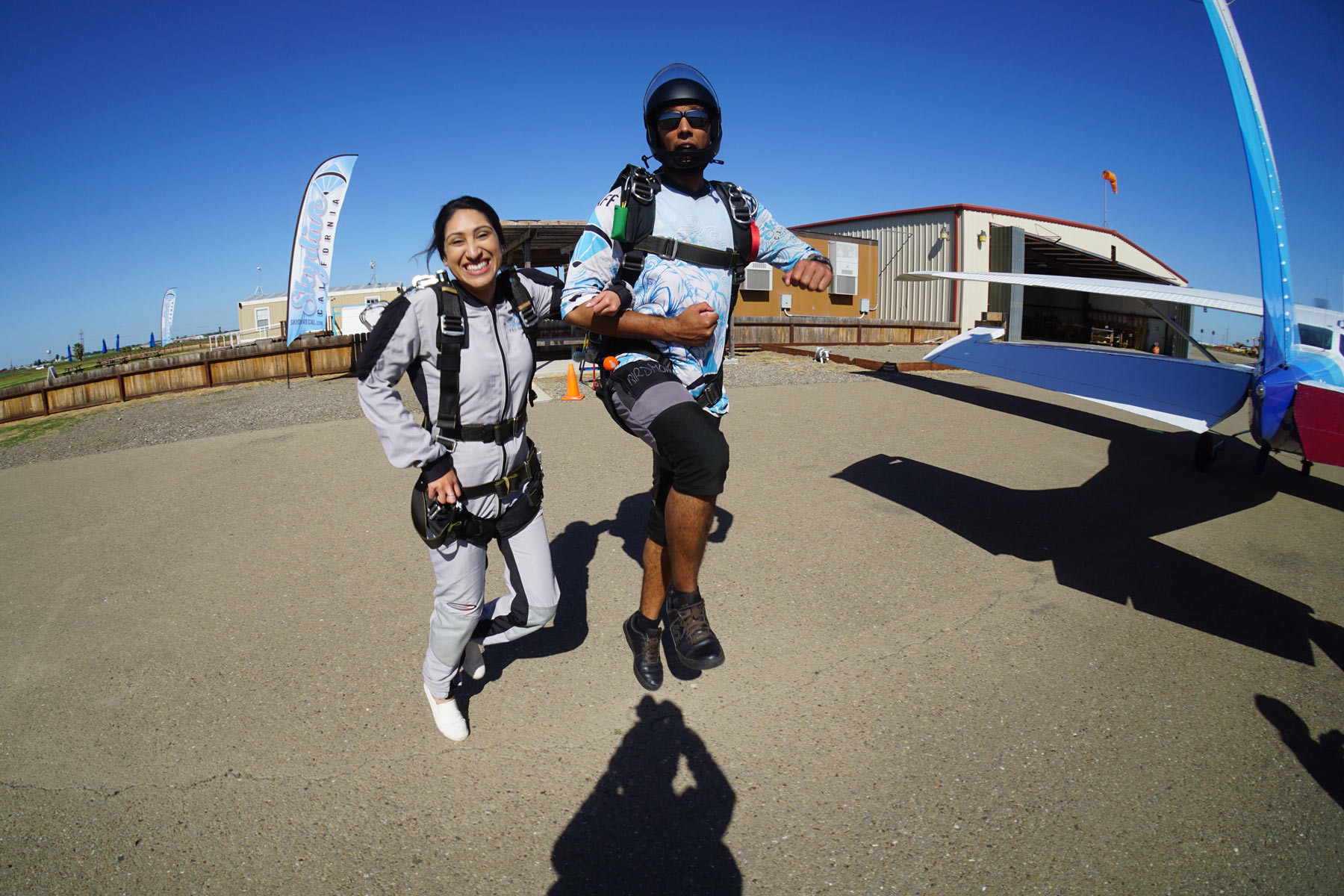 What To Wear Skydiving: Safety Concerns
Tight vs Loose Fitting Clothing
When making your first skydive, it's important to understand that you're not just a passenger; you play an active role in your safe return to earth! As a tandem student, your role requires physical exertion and flexibility. Any clothing that may restrict flexibility of movement or potentially restrict either your vision or the vision of your instructor should be avoided.
In other words, super tight clothing is not the right play.
Read: your favorite skinny jeans that require you to either hop up and down to wrangle the zipper or lay on the bed to fasten the top button isn't what you'll want to wear for your skydive!
On the flip side, avoid super baggy clothing. As a tandem student, you'll be sharing a harness with a tandem instructor and it's important that s/he have access to all of the parachute deployment handles and be able to see. Big baggy hoodies can be a problem when flapping in a 120mph breeze!
Skydiving Outfit Pro Tip:
Athleisure-type apparel is most recommended for skydiving.
Shorts or Long Pants?
During the heat of summer, it can be tempting to wear shorts, but it's not recommended.
Daisy Dukes or those super-thigh-high running shorts aren't the most comfortable when wearing a tight skydiving harness that feels super-not-nice when rubbing against bare skin! For the gents, you'll want some material between the harness and the nook and crannies, if you catch our drift… (we'll leave it at that).
Another consideration is the landing. The most common landing technique is a butt slide (similar to sliding into a base like a baseball player). There's a reason baseball players wear long pants and not shorts in the heat of summer – road rash! The same holds true for skydiving.
Skydiving Outfit Pro Tip:
Jeans work fine, but the most comfortable pants are yoga pants, sweatpants, or joggers.
Types of Shoes To Wear On a Skydive
The shoes you choose are important! We don't want to cramp anyone's style, but anything that could potentially fall off or serve as a snag hazard will be a no-go.
The most common error we see is the decision to wear boots. Many folks think they need lots of ankle support and will wear cowboy boots or work boots. Work boots with lace hooks are a no-no (snag hazard) and cowboy boots pose a greater threat for turning an ankle on landing (plus they're a little restrictive when maneuvering in the plane). Flip flops or any shoes without any backing won't be permitted.
Jumping barefoot isn't allowed either.
Skydiving Outfit Pro Tip:
Tennis shoes or "sneakers" are the way to go. These funky-looking things aren't recommended either:
Jumpsuit or No Jumpsuit?
If you check out our Instagram feed, you'll see that some guests choose to skydive in a jumpsuit while others choose to jump without one – what's the best choice? If given the choice, we recommend the jumpsuit! The reasons for this are as follows:
Protect Your Clothing – When making a butt-slide landing, it's not uncommon to get grass stains on your clothes. This can be prevented if wearing a jumpsuit over your clothes.
Protect Yourself – If wearing shorts, it's highly recommended to wear a jumpsuit to prevent scrapes or even road rash. Something to consider is that it's possible to land outside of the main landing area where the terrain may have rocks and prickly vegetation.
Look The Part – You'll notice that nearly every skydiver wears a jumpsuit. You wouldn't fly with the Blue Angels without wearing a jumpsuit – it's part of the experience!
Look Good – Your photography will look better when wearing a jumpsuit. Exposed skin in a 120mph wind doesn't look all that great (every licensed skydiver can confirm this). A jumpsuit makes you look legit!
Skydiving Outfit Pro Tip:
Wear a jumpsuit!
What To Wear Skydiving: Dressing for Warmth
Generally speaking, the temperature drops about 3°F for every 1,000 feet of ascent. On an 80°F day, it may be around 40°F at a jump altitude of 13,500 feet. To ensure a great skydiving experience, it's best to not be shivering in the plane on the ride to altitude or when the door opens – it's more than a cool breeze!
To prepare for this, it's best to avoid bulky clothing. Instead, wear layers as you would when going on a hike. Adding or removing a light zip-up running jacket is ideal. During the winter months, we recommend an Under Armor base layer piece as a good foundation to keep you warm.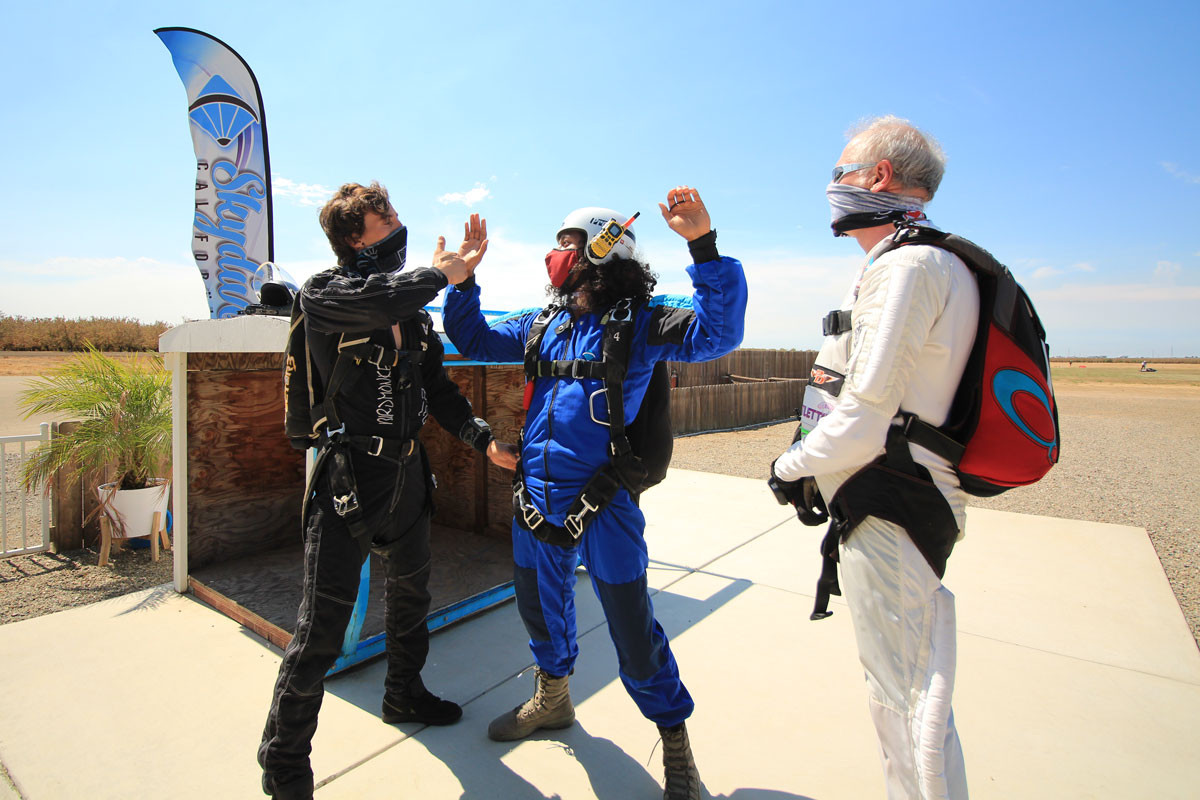 What To Wear (and Not Wear): Skydiving Fashion
If looking your best is of any concern, we've got some fashion tips for you! (Sashay, Shantay!)
To look your best in photos we've got some tips to ensure your social media pops!
Hair Control – Your best photos will center on your face and shouldn't call attention to your hair streaming across your instructor's face! Use a hair tie to keep your pony on lock or, better still, go for braids. Gents with long beards: the same applies to you!
Beware the Plunging Neck Line – Depending on your social strategy, this is something to take into consideration. Your skydiving harness will buckle at the bust line, potentially making that tight-fitting V-neck expose more than you planned. This is further "enhanced" by the videographer flying in front of you, capturing every moment, as you fall belly to earth. No judgment here either way, but we want you to know so you can plan accordingly.
Oh, That Beautiful Skin – Even the tightest skin doesn't look all that great when exposed to hurricane-force winds! This issue commonly causes folks to be a little self-conscious. If you anticipate worrying over skin flapping in freefall, wear long sleeves and pants or a jumpsuit – it'll allow you to focus on the fun you're having and nothing more.
Smile – Some folks feel anxious about having flappy cheeks in freefall. The solution to this problem couldn't be easier to remember or to do: SMILE! Showing those pearly whites will cause you to engage lots of facial muscles. Poof – flappy cheeks be gone!
Have Questions?
If we missed a detail, please contact us! We'd be more than happy to answer any questions you may have!
Related Articles