When you think of traditional sports, there may be a few activities that immediately come to mind. For the majority of Americans, the most widely recognized sports are football, soccer, basketball, baseball, golf, and tennis. However, many sports are thriving outside of conventional competitive games.
Perhaps the recent New York Times article, "How Fast Can You Skydive: These Athletes Are Racing to Earth," caught your eye, and now your wheels are turning … athletes? Hold the phone. Is skydiving a sport?
Yes, dearest reader, skydiving is most certainly a sport!
Although perhaps not given as much acclaim or media coverage as the sports aforementioned, there is a deep, rich world to explore within the extreme sport of skydiving.
Interested in learning more? Keep reading for some insider details about skydiving competitions.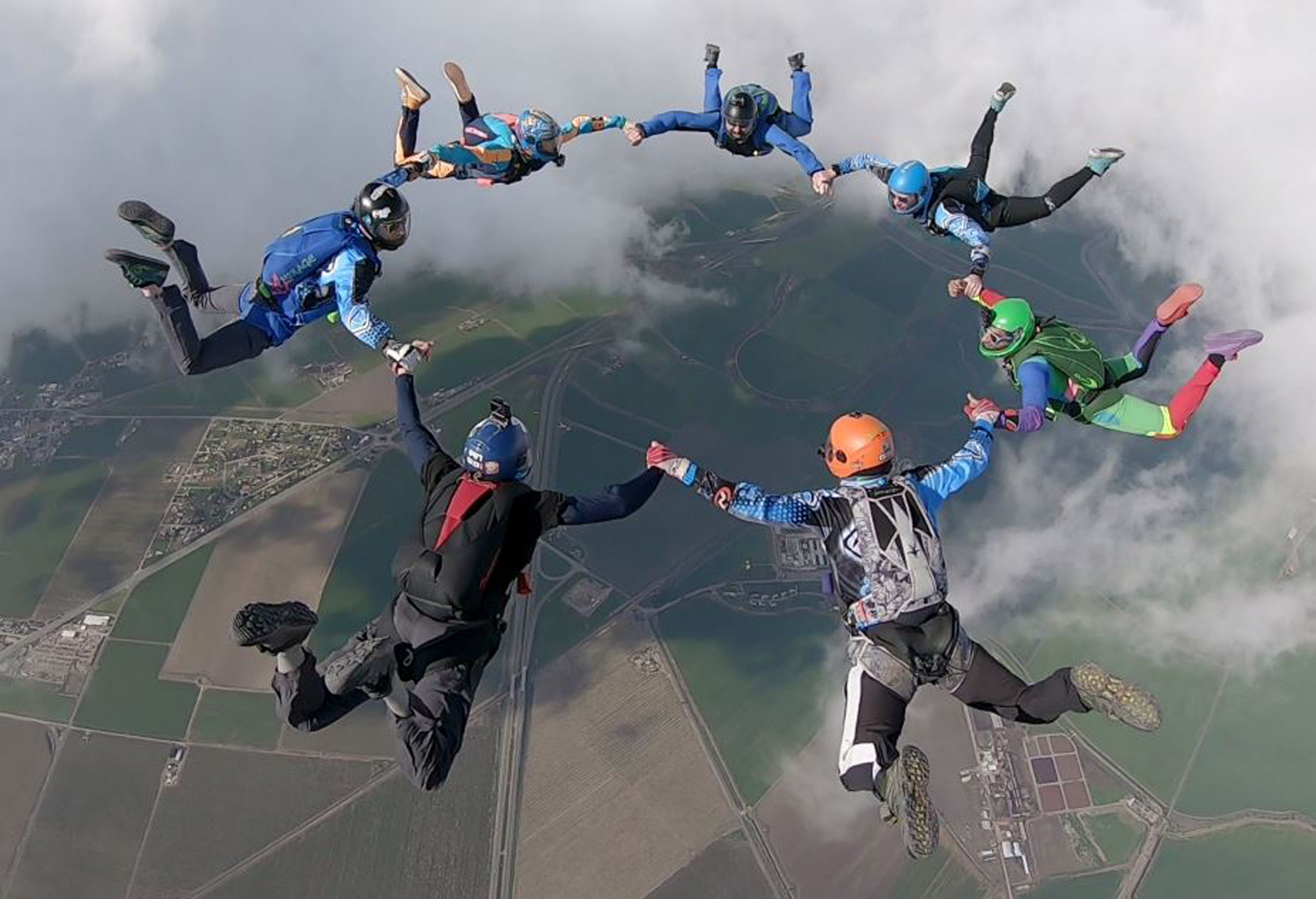 Common Competitive Skydiving Disciplines
Competitive skydiving is actually quite multifaceted – a fact that can be directly attributed to the sport being multidisciplinary! Within skydiving there are seven primary competitive disciplines: 1) Canopy Formation, 2) Canopy Piloting, 3) Formation Skydiving (sub-divided into Relative Work, Vertical, & Mixed Formation Skydiving), 4) Speed Skydiving, 5) Accuracy Landing, 6) Artistic Events (Freestyle & Freeflying), and 7) Wingsuit Flying (Acrobatic & Performance).
Immediately after exiting the aircraft, these competitors deploy their parachutes and link together to build different, dynamic formations.
These skydivers also deploy their parachutes shortly after exiting the aircraft. Typically using small, aggressive canopies, these individuals fly their parachutes through a course of inflated buoys set up on a stretch of water. These competitors are judged on speed, distance, and accuracy.
Formation Skydiving (General)
Formation skydiving requires participants to build certain formations and perform designated maneuvers while in freefall within an allotted amount of time.
↪ Formation Skydiving
Formation Skydivers build formations and perform designated maneuvers while freefalling in a belly-to-earth position.
↪ Vertical Formation Skydiving
During an allotted amount of freefall time, Vertical Formation Skydiving (VFS) teams must perform a predetermined sequence on a vertical axis, flying either head up or head down.
↪ Mixed Formation Skydiving
Teams participating in Mixed Formation Skydiving must perform a predetermined sequence in a variety of orientations both vertical and horizontal (head up, head down, belly to earth, back to earth).
Quite simply, the goal of speed skydivers is to achieve the fastest freefall speed possible.
Individuals must fly their parachutes and land on the center of a target only two centimeters in diameter.
Artistic Events (Freestyle & Freeflying)
Freestyle competitors perform a choreographed sequence of compulsory moves and creative moves while in freefall. Freestyle teams are composed of one performer and one videographer.
Freeflyers rely more on traditional flight orientations (head up, head down). Competitors must perform a compulsory round as well as a creative round. Freefly teams consist of two performers and a videographer.
Wingsuit Flying (Acrobatic & Performance)
In acrobatic wingsuit flying, two flyers build formations while in flight. Similar to the artistic events, there are both compulsory rounds and freestyle/creative rounds. Acrobatic wingsuit teams include two performers and a camera flyer.
In wingsuit performance flying, a single wingsuit flyer will cover a 1000 meter vertical course, focusing on one of three tasks each round. The three goals to achieve are maximum distance, maximum speed, or maximum time of flight. Performance is judged using a GPS receiver that is mounted to the wingsuit flyer's helmet.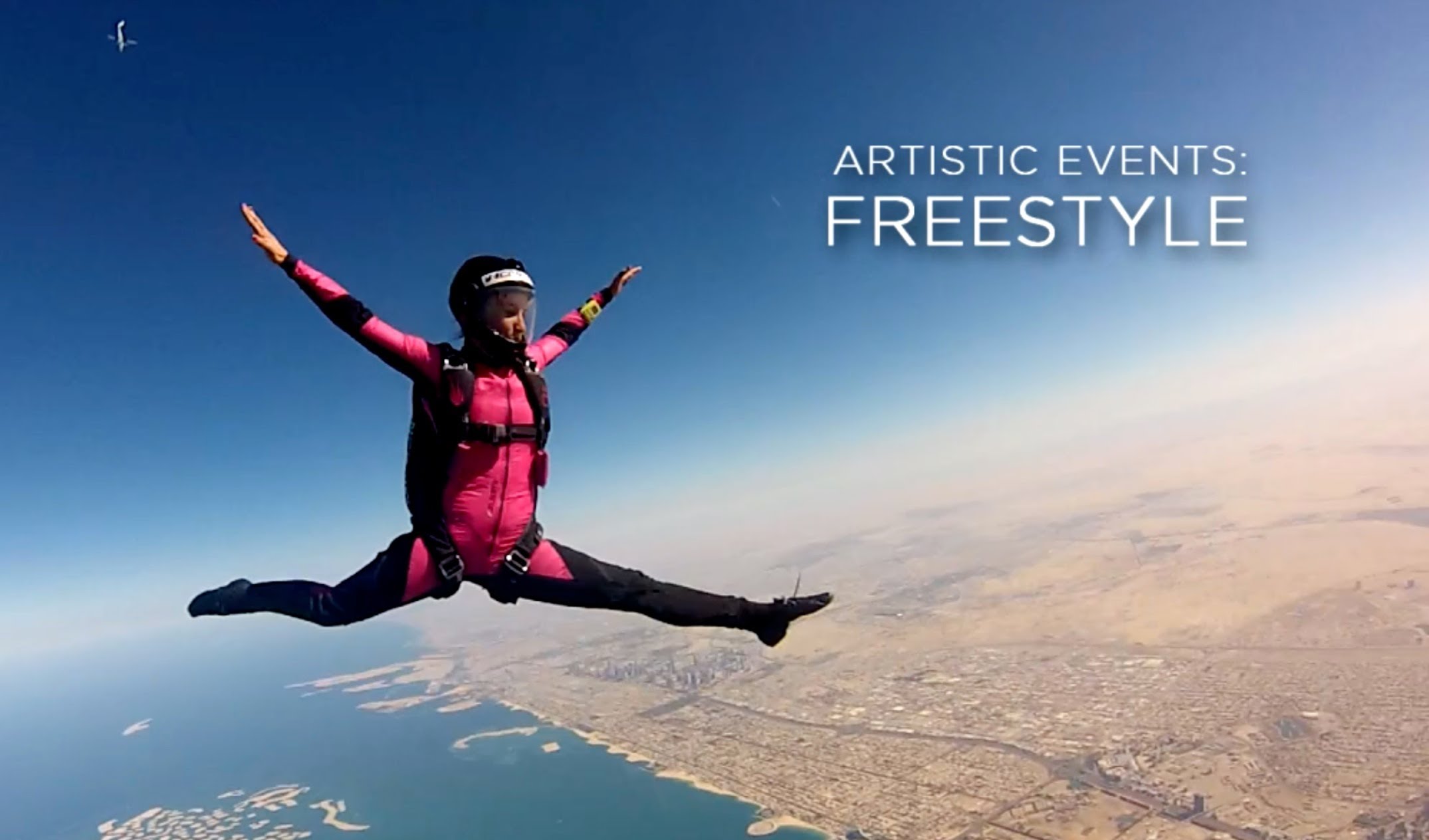 Levels of Skydiving Competitions
Competitive skydiving is multi-tiered. Skydiving competitions can be held at the local or regional level. The next tier of skydiving competitions occurs at the national level. For local and national competitions, competitors may participate in various classes according to their skill set. Because of the number of competitors and the ranges of skills, certain skydiving disciplines have been broken up into different competition classes: i.e. (in ascending order) beginner, intermediate, advanced, and open.
Every two years, the most elite skydiving athletes from across the globe gather to compete on the international stage at the World Championships. In these skydiving competitions, each country selects its best athletes to attend.
As technology and skills have evolved, so have skydiving competitions. As a matter of fact, there are now even indoor skydiving competitions at both the national and international levels!
Skydiving Athletes
A skydiving athlete can be anyone from the weekend warrior to the professional competitor, and every level in between. Becoming a skilled skydiver requires practice and dedication just like any other sport so, technically speaking, every licensed sport skydiver could be considered to be a skydiving athlete, whether or not they compete! Of course, the sport of skydiving isn't just about competition. Above all else, skydiving is a community of passionate individuals united by a taste for freedom and a love for flight. 
Get Involved
Whether you're interested in making your first jump, learning to skydive, or training for competition, at Skydive California we have the skydiving amenities you need. Reach out! We are happy to make your dreams of flight a reality!