Deciding to go skydiving is big. The act of jumping from an airplane is exhilarating at the very least, and straight-up life-changing for most folks. You will probably ask a lot of questions before booking your tandem skydive, one of the biggest perhaps being about skydiving regulation in the United States. If this sounds like you, you'll be pleased to learn that there are a lot of skydiving rules in place to make your jump as safe and enjoyable as possible. Here are some of the most-queried requirements for skydiving: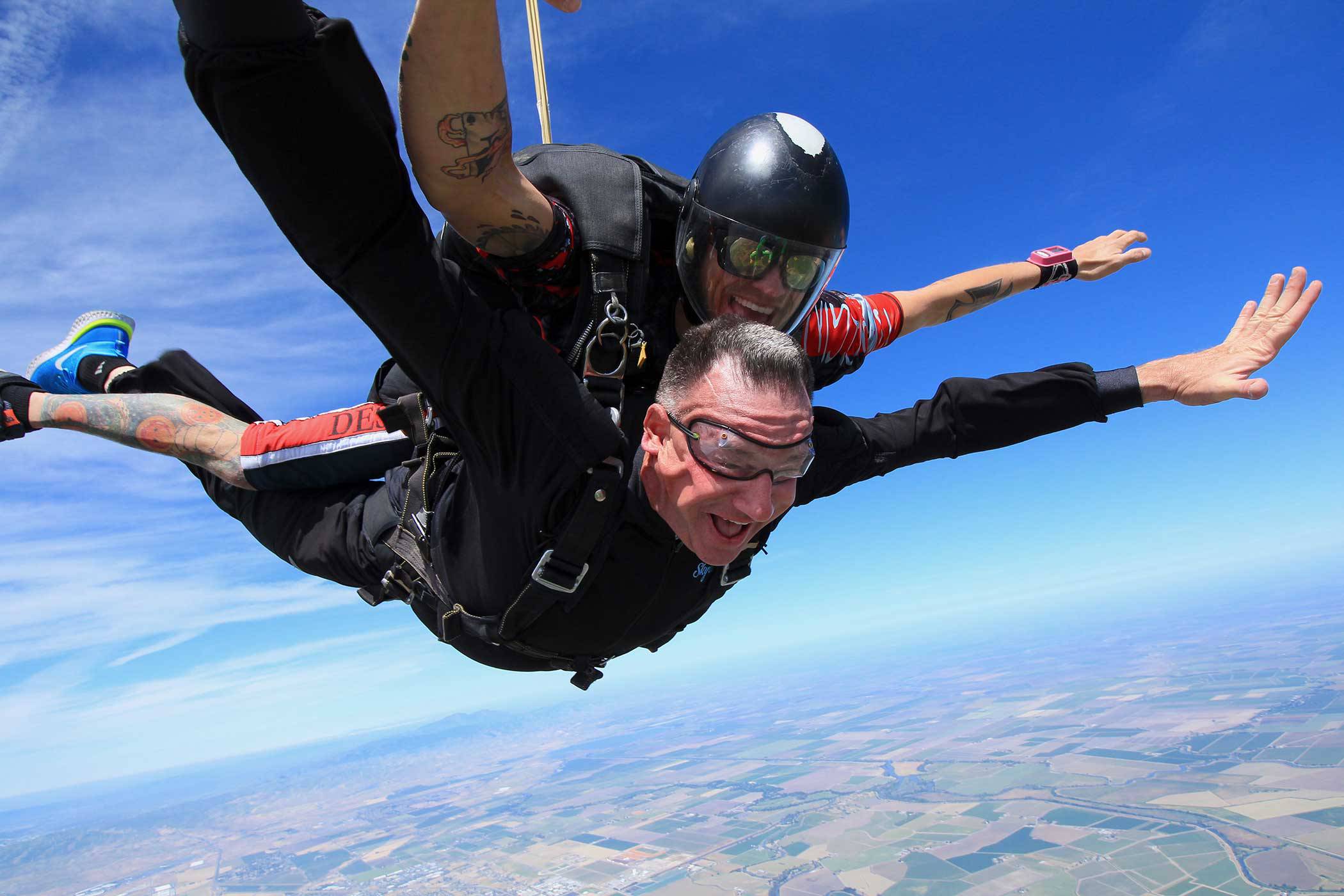 Age Limit
One of the most common questions regarding skydiving requirements is, "how old do you have to be to skydive?" For every dropzone that is a member of the United States Parachute Association (USPA), this one's simple and consistent: 18 years old.
The USPA requires anyone making a skydive to be the contract age of majority. In other words, you have to be at least 18 years old to legally sign a contract – you can't consent to the risks associated with skydiving until you are 18.
On the other end of the spectrum, there is no maximum age limit to experiencing the thrill of jumping from an airplane! This may surprise you, but the current record for the oldest person to skydive is 103 years and 259 days old! As long as you are in good health and your doctor gives you the green light, it's never too late to experience human flight.
Weight Limit
After the age requirement, the next most common question is about weight. The weight limit to skydive at Skydive California is 225 lbs, and you must be in good physical shape. And while there are no specific skydiving height requirements, height does come into play when talking about weight.
One of the most important safety requirements of your tandem skydive is the fit of the harness that securely attaches you to your tandem instructor. The harness is adjustable, but it needs to fit snugly and be evenly distributed on your body. This is why you must be height to weight proportionate.
Your comfort and safety, and the comfort and safety of your instructor, are of top priority. The parachute and harness combination that you will be using is made to carry a maximum of 500 lbs, including the weight of you, your instructor, and your gear. There are a lot of calculations that go into the maximum weight limit for skydiving, and it is solely based on safety concerns; it's not meant to be discriminatory.
What to Wear
Skydiving is a physical activity, and it's important to wear clothes that will be comfortable and easy to move around in. You will be in many different positions throughout your jump, and you don't want to find out too late that something you wore makes it hard or uncomfortable for you to perform.
Well-fitting, athletic clothing is usually the best option. Free of buckles, zippers, and other snag hazards, athletic gear is an easy win. Your clothing should not only be comfortable, but it should also protect you from the elements. Remember, wind will be whipping past your body at 120 mph, so pants and long sleeves can definitely help with temperature changes. You will also want to protect yourself from any abrasion that could happen on landing, so covering your extremities is always a good idea. You may even have the opportunity to wear one of our super cool, official skydiving jumpsuits over your outfit as an extra layer.
Wear closed-toed, lace-up shoes. No boots, sandals, flip flops, heels, or any shoes with hooks or buckles are permitted.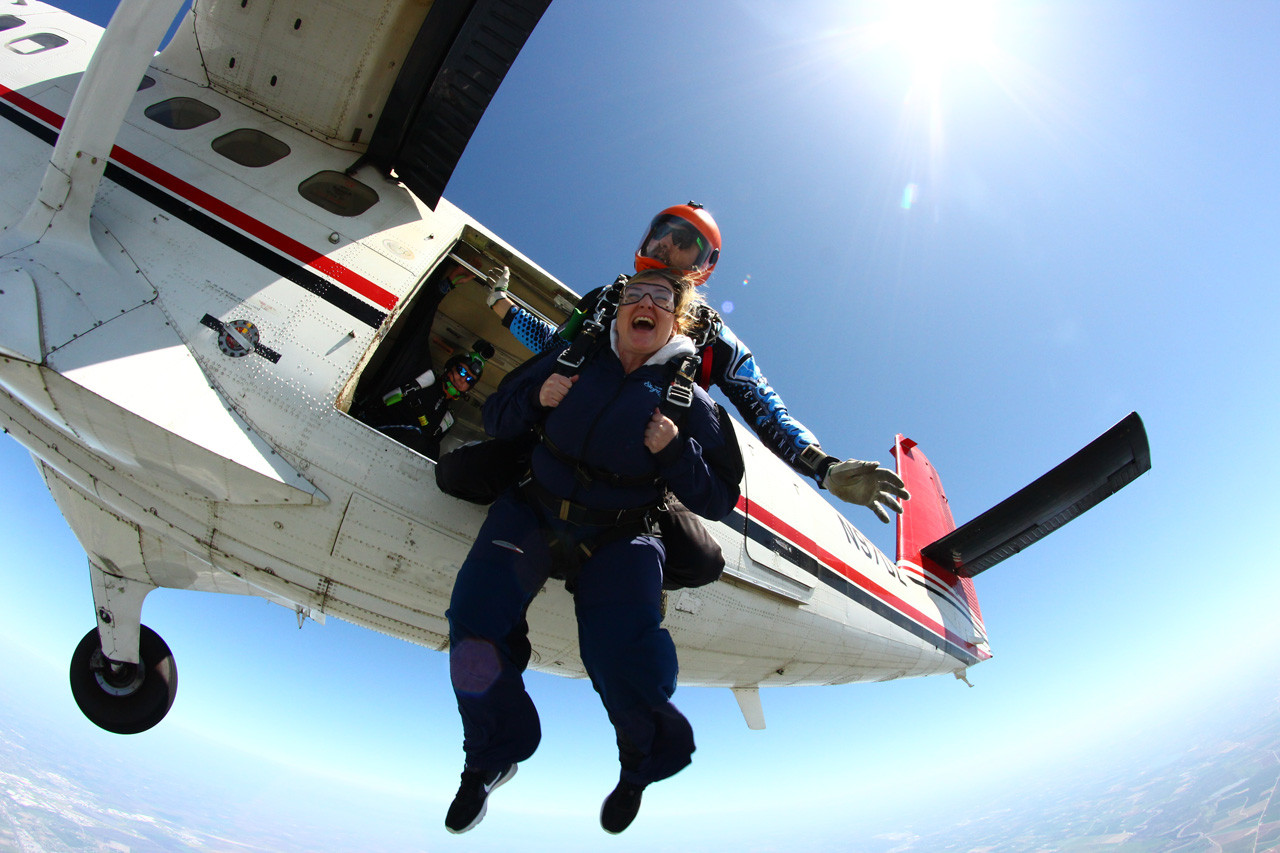 Other Physical Requirements
While you will be guided through the entire process by an experienced professional instructor, your tandem skydive is more than just a ride. You will be physically involved in the jump and landing, and the more you participate, the more fun (and safer) the skydive will be!
It's important to consider your level of health and mobility when assessing whether or not you will be able to skydive. Being able to crouch, arch your back, and lift your legs are all important to a successful skydive.
Additionally, certain health issues like high blood pressure, diabetes, seizure disorder, and pregnancy may require additional consideration before getting into an airplane with the intent to jump out. If you are unsure about any aspect of your health, be sure to talk to a medical professional before booking your jump.
Skydiving License Requirements
There's a chance that you may decide to keep on jumping after you land from your first tandem skydive. We know how you feel – that's exactly how most of us got into the sport, too!
For some people, their first tandem is a once-in-a-lifetime experience. For others, it is the first step in a lifetime of exciting aerial adventures. Just like your tandem, getting your skydiving license has a series of requirements that you must meet to become a licensed skydiver.
If you are someone who just can't get enough, the first thing you will do is complete a ground course, where you will learn all of the basic information needed to get you in the air as an Accelerated Freefall (AFF) student. From there, you will need to successfully complete a series of written, oral, and practical (that means in the air!) tests. Once you complete all of these requirements and earn 25 jumps, congratulations! The sky is your playground. 
Comfortable with all of these skydiving requirements? Book now! We can't wait to get sky high with you!