Skydiving goggles might just be the most important piece of gear you will wear the first time you jump from an airplane (besides the parachute, of course!). Eye protection is crucial when taking part in any extreme activity, but the 120 mph winds of skydiving make parachute goggles an absolute must. Getting your body out into the air is the whole point of skydiving, but it's okay to let your eyeballs skip that part.
Among everything you are going to wear on your first jump, here are some reasons why goggles rank near the top of the skydiving equipment list.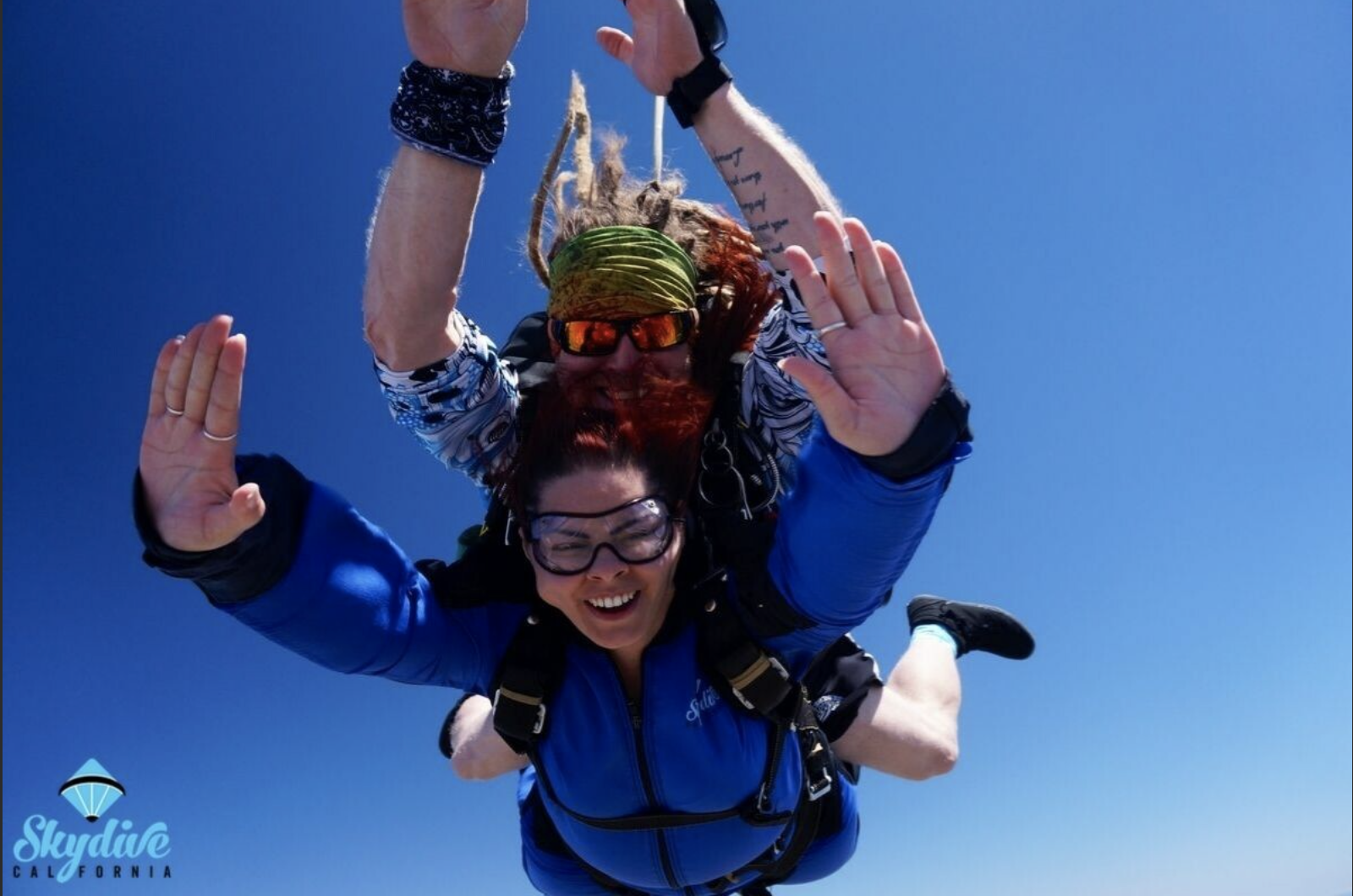 Why Goggles?
If you've ever stuck your head out of the car window (hopefully while someone else is driving), you know how intense even 40-60 mph winds can be. Without protective goggles, your eyes would be met with twice as much wind during your skydive. If you were even able to keep them open, your eyes would dry right out and you wouldn't be able to see anything around you. And when skydiving, you don't want to miss a single thing!
The Perfect Fit
To make sure your goggles are working as they should, it's important to have the perfect fit. Skydiving goggles are meant to sit snugly across the bridge of your nose, over your eyebrows, and behind your ears. This creates a sort of seal that won't allow the airflow to get inside and irritate your eyes. Skydiving goggles are usually made of a somewhat flexible material that will bend and shape to your face as the elastic strap is tightened, giving you a customized fit. 
Make sure to try your goggles on with the help of your instructor before you get on the plane. You want them to be tight enough to be comfortable and effective, but not so tight that they hurt your noggin.
Special Considerations
If you wear contacts, rest assured that you will be able to keep them in for your skydive and that they should be fine behind a pair of regular goggles. Most goggles block any flow of air over the eyes, but some have vent holes that may let in just enough air to be a bother. If you're concerned about it, talk about it with your instructor. There's this super high-tech material (jk, it's just tape) that we can put over the holes so no air sneaks in.
Wearing glasses is no problem either. You'll wear a different style of goggles that are designed to fit over standard eyeglasses. If you have cool chunky or funky frames, they may not quite fit under the goggles – meaning you won't benefit from the protection they provide, and you just might lose them to the sky! Jump day is a good time to pull out that basic, backup pair we all seem to have kicking around.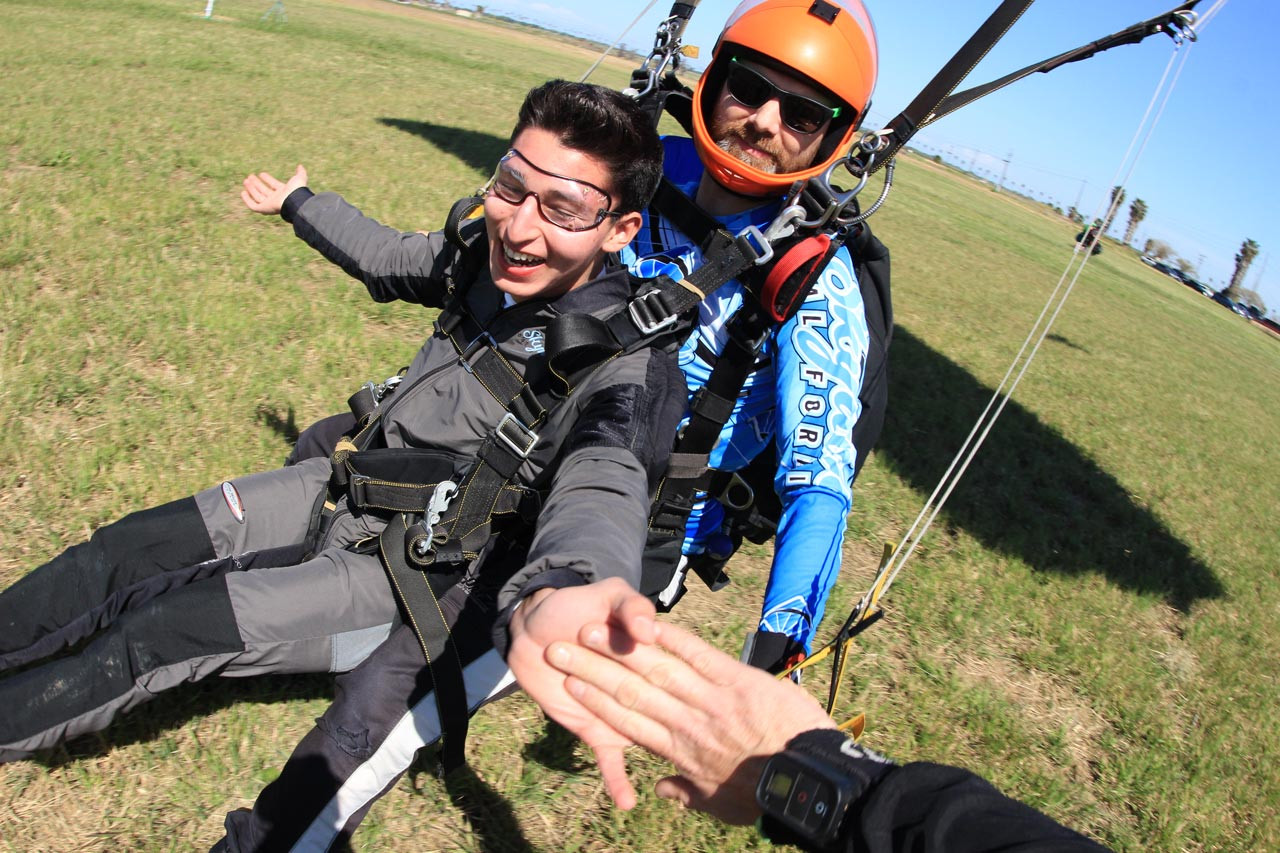 When Do I Put Them On?
As any tandem instructor can tell you, goggle logistics are a source of anxiety for first-time jumpers. Where are my goggles? and When should I put them on? being common questions. It makes sense! They're an important bit of kit that can easily get lost in the shuffle.
Here's the skinny: your goggles will stay with you or your instructor for the whole ride to altitude, but you won't put them on until it's almost time to get out of the plane. Putting your goggles on too soon might fog up your view. Your instructor will tell you when to put them on, and you can trust that they are going to give you plenty of time to get them snug and comfortable. Until then, enjoy the goggle-less view as you climb higher and higher to your exit point!
Can I Buy My Own?
As one of the cheaper pieces of gear on the skydiving equipment list, it may be tempting to purchase your own goggles. In reality, it's easier for you to just borrow a pair of ours for your first jump, and even your first few jumps into your student progression (if you choose to continue your skydiving journey). We have more than enough goggles to go around, and we know that the goggles we provide fit well, function properly, and meet all safety requirements.
There are a few things to consider once you are in the market for your own goggles. You want to make sure you buy goggles that fit your particular head and face shape. You also want to decide what type of lens you want. Do you want clear or tinted? Polarized? How impact resistant do they need to be? You can even get yourself a pair of prescription skydiving goggles if you wear corrective lenses. There are a plethora of choices! Assessing your needs and talking to more experienced skydivers will help you decide when and what to buy.
Want to see what skydiving is all about for yourself? Come jump with us! Book now!