Imagine getting married and not hiring a wedding photographer – it wouldn't happen! Marriage is one of life's momentous events and so it must be documented by default. Logically, the same is true for skydiving. Jumping from a plane ranks as one of life's great moments right up there with marriage, childbirth, and the purchase of a new home. So, if you're thinking about going skydiving, plan to hire someone to capture the jump because it's a moment you'll want to reflect on and celebrate.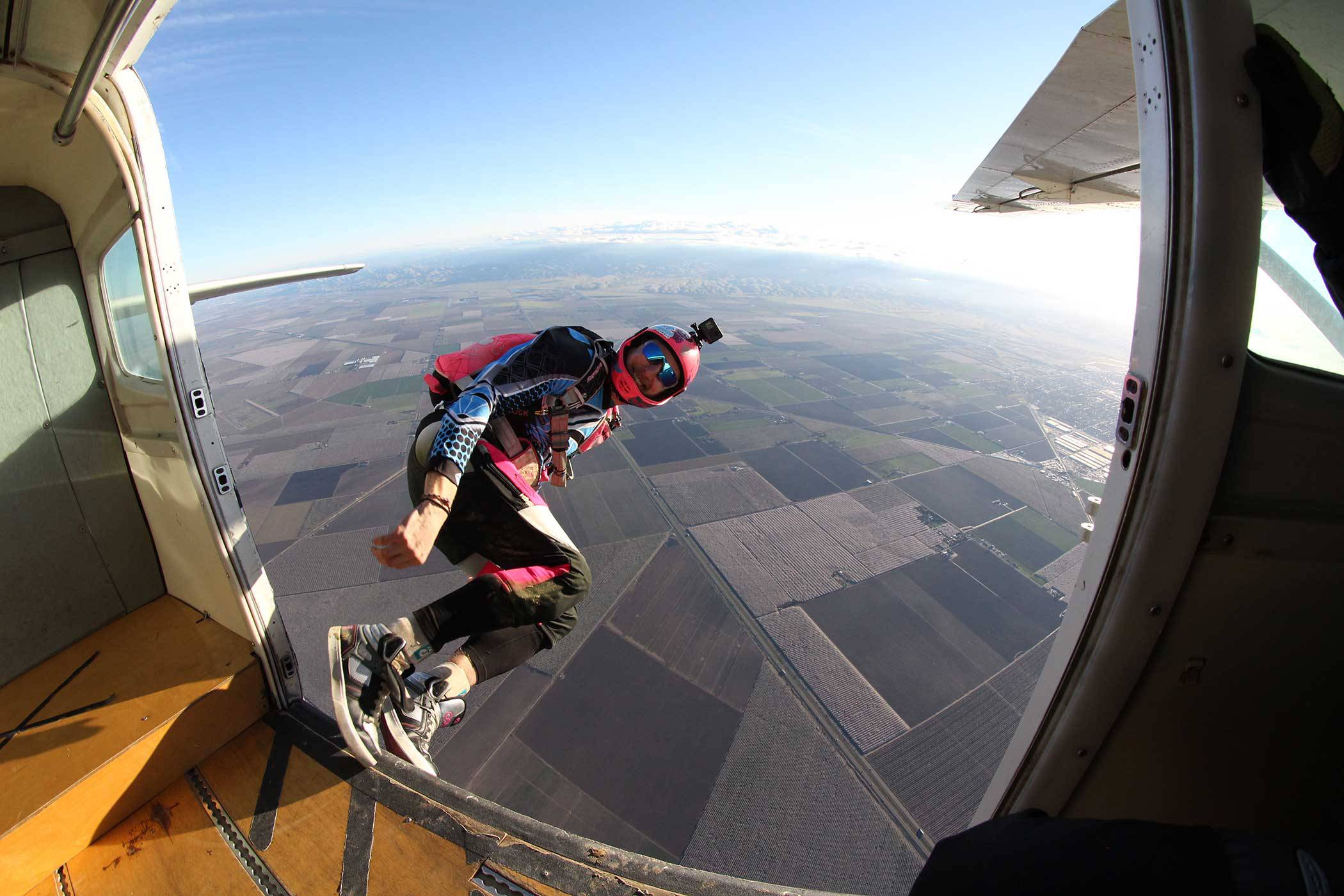 Why You Should Get Skydiving Pics and Video
Ask any skydiver if you should get video or photos of your jump and they'll all say the same thing – YES. We're not telling you this because we're trying to up-sell you, we're trying to help you make the right decision!
Here are the reasons why you need to have your skydive documented:
A Lifetime Keepsake – Your skydive is a 60-second free fall and happens in a blur. Having photos you can look back on years down the road is something you won't regret. Look at how adventurous you were!
Don't Miss The Action – There's a lot that occurs during a skydive and it's likely you won't be aware of what's happening with all that adrenaline. It's great to watch your facial expressions from exiting the aircraft to the deployment of the parachute.
Become a Social Media Star – Share your photos to your social networks and prepare for engagement overload and the admiration of all your friends!
Share It With Your Family – Having photos and videos to share with your family** is more important than you realize. Families love sharing in your adventures. Don't deprive them of your fun!
Avoid Regret – Many of our guests have declined to get photos or video thinking that a skydive is like a roller coaster ride only to learn it's a life-changing experience. When the realization hits they don't have any photos or videos from the event, they're disappointed every.single.time.
**Pro Tip: Consider telling your parents about your skydive after the jump and not before!
The Best Skydiving Media Package
If you're considering buying a skydiving media package it's important to know the kind of photos and videos you're purchasing. There are two distinct skydiving photo and video packages available in the skydiving industry today: handcam and outside camera. The differences between the two are distinct and if given the choice, we recommend the outside option every time.

What's the Difference Between Handcam and Outside Camera?
What is Handcam?
Handcam is typically a Go-Pro or similar-type of action camera mounted on the wrist of the tandem instructor. The primary negative of handcam is every image has the arm of the instructor within the frame of the photograph. Additionally, every photo is close up and doesn't provide the best exit shot or show any images of both the subject (you) and proximity to the ground below. Seeing images of you being thousands of feet up is a photo worth having!
What is Outside Camera?
Outside camera is a GoPro or DSLR camera mounted to the helmet of a camera flyer (a skydiving camera operator) who exits the aircraft with the tandem pair. The greatest positive of having outside camera is it captures the most awe-inspiring moment of the skydive – the exit. Seeing the subject (you) falling away from an airplane is the shot everyone wants. Additionally, a camera flyer can capture multiple angles of the tandem pair – above looking down, below looking up, and from the sides. These multiple perspectives give the tandem student much more variety to choose from as opposed to the one-dimensional photo from the wrist of a tandem instructor.
Why Do So Many Dropzones Offer Handcam?
Though outside camera is regarded as the best skydiving media package, fewer dropzones offer this option due to economics. Having a camera flyer adds a spot on the aircraft. With handcam there's no need to occupy an additional seat, allowing it to be used for a licensed skydiver or student. Additionally, handcam is more profitable for the dropzone and the tandem instructor. It's for these reasons outside camera isn't commonly found at skydiving centers today.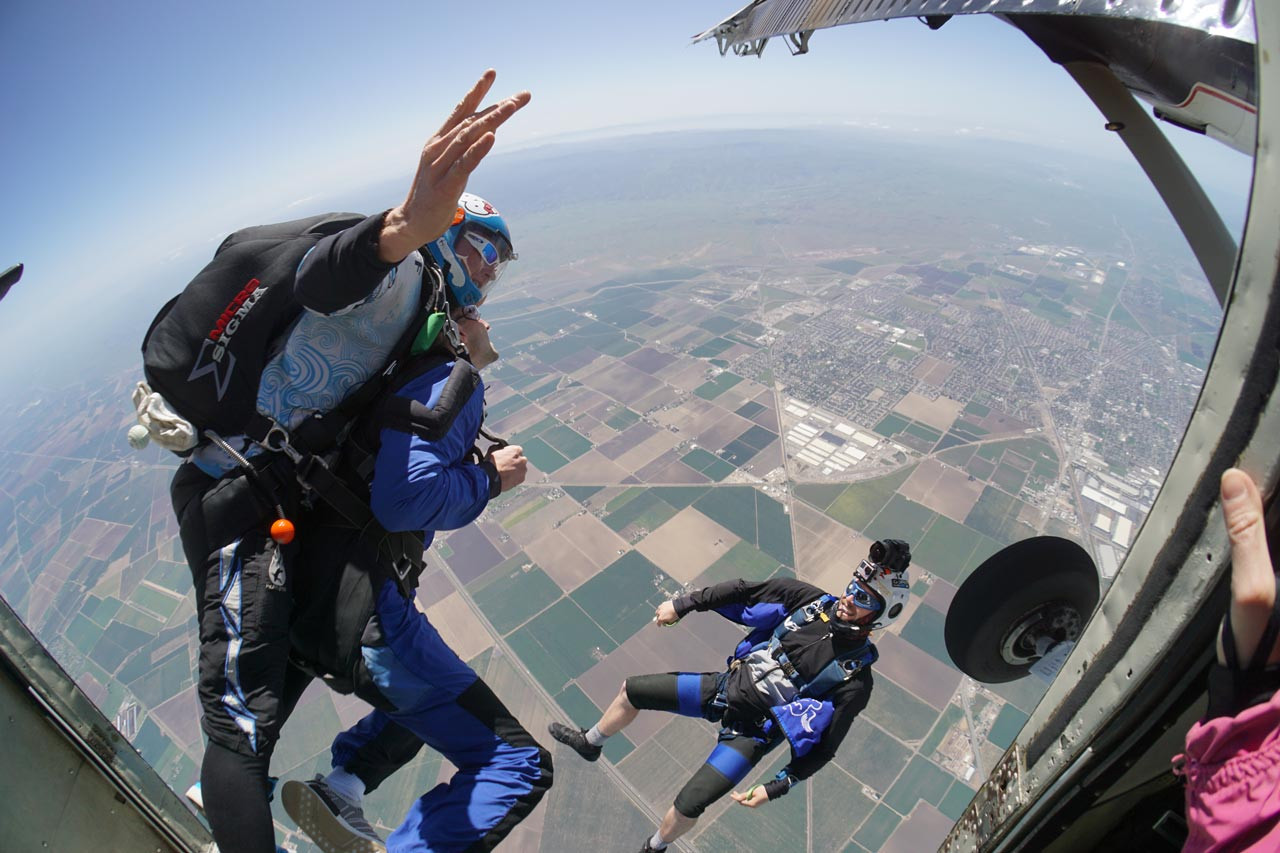 Skydiving Media FAQs
What is the cost of Skydiving Media packages? Throughout the United States, skydiving media packages generally range from $90 (photos only) to $159 (photos, video, and social media package). At Skydive California, our media prices are as follows:
Photos Only: $90 | Video Only: $90 | Video and Photos: $120
Can I Bring My Own GoPro? No. GoPro's are not permitted for use by first-time jumpers or any skydiver with less than 200 jumps. The Basic Safety Recommendations (BSRs) for the use of cameras are set by the United States Parachute Association (USPA). Skydive California is a USPA Group Member and must comply with USPA BSRs.
If on a budget, what's better photos only or video only? If your budget only permits you to choose between video and photos, then we recommend photography. Having some great images that you can print and selectively share on social media is a great choice.
Can I select my own music for my video? Regrettably, no. Due to copyright issues, we do not allow our guests to choose music tracks heard on the radio.
How long does it take to receive my skydiving photos and video? Usually, it takes about 20 minutes to edit a video and just minutes for photography!
When can I decide to purchase video or photography? You can pre-purchase a media package at the time of booking or on the day of your skydive.
What is the best time of day to have photos and videos taken? Ideally, at the beginning of the day or end of the day when the light is typically best. Our recommendation is to book as early as possible.
What are Some Tips to Ensure my Skydiving Video & Photos Look Good?
Chin Up, Never Down!
As skydiving professionals, we get sad when our guests look straight down at the ground because the resulting imagery is the top of the person's head! The first step to having good photos is to look up on the horizon! Keep that chin up and don't bury it in your chest!
Have Fun!
If you're having fun, then it will come out in the photos. Don't worry about what you look like – if you're having fun, you'll look great!
Don't Be Rude!
We're all about freedom of expression, but when guests give the camera the middle finger, it doesn't translate well when Mom sees it (or the rest of the world). Keep it classy!
Write a Message On Your Hand
Many guests write messages on their hands and present them to the camera for some added fun. Popular messages include:
"Sorry Mom!"
"No FOMO"
"Wish You Were Here!"
"Live Large"
"Sorry – Not Sorry!"
"Happy Days!"
"Life Is Good!"
Wear a Jumpsuit
At 120mph, your skin will get loose and flap a little and if you're self-conscious like most of us, then you may want to wear a jumpsuit. Also, you'll look the part like a skydiver and that only adds to the photos.
Have questions about skydiving photos that we haven't covered here? Don't hesitate to contact us! We'd love to share more information.
Related Articles