By enrolling and attending college, you made a statement: you were intent on reaching new heights.
Well, we know up until now you've probably been keeping your sights directed more on a computer screen, the back of your eyelids as you catch up on some seriously needed shut-eye (we know those all-nighters take a toll), or maybe, even on the pages of a book! We're pretty sure you haven't looked up at the clouds recently, or much less, pictured yourself there.
Did you know just down the road in Northern California is a dropzone that could make your skydiving dream a reality! Skydive California is the heart of college skydiving!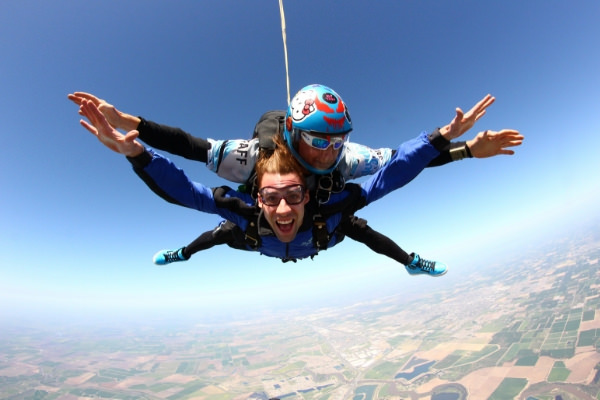 Tight on cash? Spend it on an experience.
Skydive California understands that during college you are doing your best to "ball on a budget,' and it's tough. One of the best pieces of advice we can give is to spend your money on experiences, not things. Don't take our word for it.  In a study that drew from over 20 years of data, Dr. Thomas Gilovich, psychology professor at Cornell University, came to the conclusion that people derive more enjoyment and psychological satisfaction from experiential purchases for three primary reasons: experiences help you connect with others, experiences help form a much larger part of a person's identity, and experiential purchases don't cause quite as much of the need to compare ourselves to others. It's proven: it's better to spend your money on something you do rather than something you have. Unless what you have is memories of an amazing time that is. Not to mention, while living in a dorm, who honestly has the space for extra clutter.
We know the rush of a lifetime is a worthwhile cost, and at Skydive California a tandem skydive from 13,000ft can be yours for only $169.
Annual College Skydiving Weekend 
If you want to know what real palpable energy feels like, join us at Skydive California for one of our College Weekends. There is something unique about how the energy culminates in a group of students. In general, not many people are quite as stoked as college students about skydiving. Think about how pumped everyone was at the homecoming game. Well, get ready to go ahead and double that feeling when you get a group of your friends and classmates to make a skydive with you! Oh, and if you get it all on video, you can really get a kick out of seeing just how everyone reacted when it came right down to it. We bet you'll be surprised—our money is on the 'macho' football player to win superlative for the highest-pitched squeal!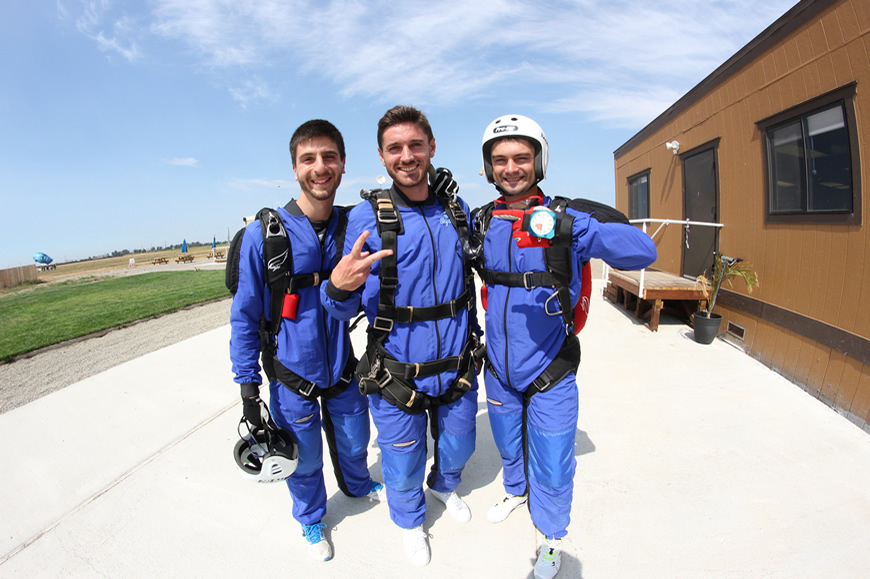 Location Location Location
One of the things that makes Skydive California the perfect college skydiving destination is its location. If you're reading this, chances are we are right in your backyard. We are within a stone's throw of 15 different colleges. From Sacramento to San Jose, students choose to skydive with us. Whether you're an alum coming back to visit or a presently enrolled student, Skydive California is your hookup to college skydiving! We know you don't want to drive forever and a day. So, pack a lunch, plan a day trip, and come check out Skydive California: The Heart of College Skydiving.
Reference
Gilovich, T., et al., A wonderful life: experiential consumption and the pursuit of happiness, Journal of Consumer Psychology (2014), http://dx.doi.org/10.1016/j.jcps.2014.08.004