DIFFERENT TYPES OF SKYDIVING FOR SKYDIVING COMPETITIONS
There are several amazing ways you can engage on a competitive level with one of the most awe-inspiring sports in existence! Tens of thousands of people sign up for a tandem skydive every year in the US alone, and a significant number experience love at first flight and go on to join a passionate and dedicated family of adventurous athletes of all stripes.
Unlike jumping tandem where a novice is tethered to a highly-trained and mega-experienced professional, sport jumpers fly alone, have a full logbook of jumps, and train extensively in order to qualify to compete. Different disciplines, or types of skydiving, come with their own set of rules and metrics, making an individual or group's performance measurable and scoreable.
Here's a rundown of five of the most popular competitive disciplines (types of skydiving).
FORMATION SKYDIVING (FS)
After intensive practice on the ground, FS flyers in groups of typically four or eight take to the sky to showcase interesting and intricate formations created during freefall. Understanding the principles of aerodynamics, group members arch their backs in order to maximize resistance and maintain a traditional skydiving body position, i.e. belly to earth. FS jumpers assemble into specific formations in a predetermined order as many times as possible during freefall; just 35 seconds of working time is permitted between each formation. A camera flyer documents the FS team's work from above, capturing a kaleidoscope of static and dynamic formations for the judges to assess.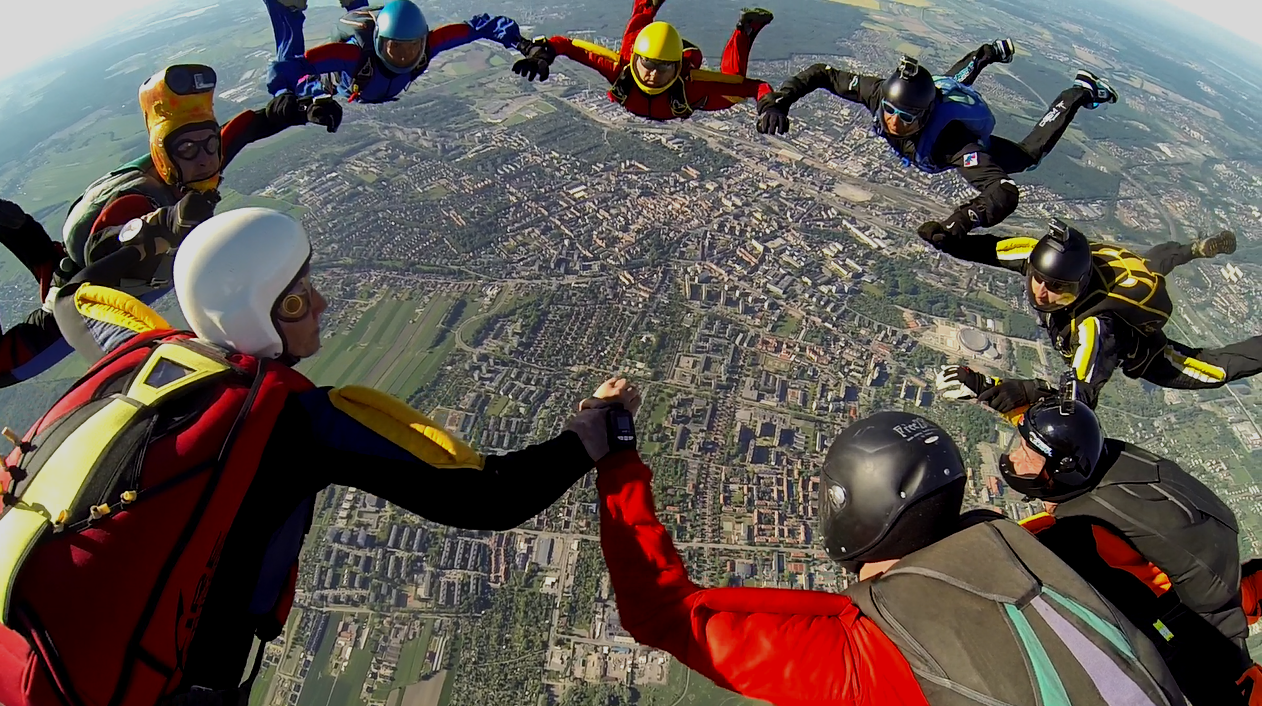 VERTICAL FORMATION SKYDIVING (VFS)
VFS approaches the idea of FS from a whole new angle, literally. In contrast to FS flyers, VFS flyers spend their time in freefall either head up, head down, or a combination of both. Teams are made up of up four members and, like FS, a camera flyer documents their performance. Gravity being what it is makes VFS flying super fast and requires practitioners to have supreme patience while they develop their extreme skills. Teams are judged on their ability to successfully create a series of formations in the correct order.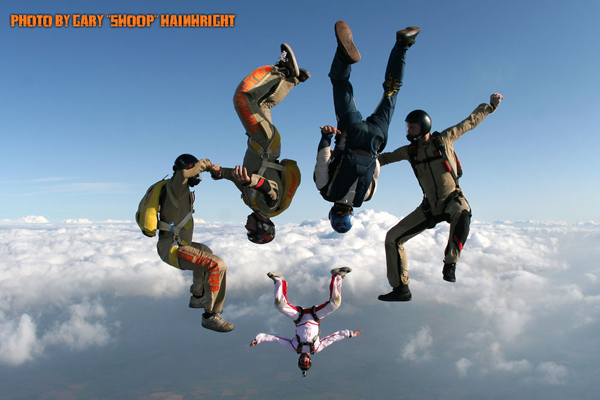 FREESTYLE SKYDIVING
Freestyle flyers have the option of competing solo in indoor wind tunnels or in pairs outdoors – one Freestyler and one camera flyer. Freestyle skydiving, which is like dancing with the wind, encourages performers to showcase their creativity. Competitive events have a series of rounds – free rounds invite Freestylers to express their individuality through personal choreography; compulsory rounds require performers to interpret a prescribed routine. Judges consider the level of difficulty found in the moves of their own creation and in precision during the compulsory rounds.
Dynamic and Freefly Skydiving also celebrate the art of non-belly-to-earth flying and, like Freestyle Skydiving, feature free and compulsory rounds.

CANOPY PILOTING
As the name implies, Canopy Piloting takes place after the parachute is deployed. Different events call for different canopy work and the competitors are judged using a different set of criteria depending on the event.  An individual sport, Canopy Pilots engage in accuracy competitions, which challenge pilots to land on a specific target, and in distance competitions, which considers the pilot's distance covered on a set course. Swooping blends Canopy Piloting with speed and sometimes watersports whereby pilots tiptoe or dance across the water, perform exciting acrobatics and delight with dramatic landings. Canopy Piloting is a super fun spectator sport too.
CANOPY RELATIVE WORK (CRW) SKYDIVING
CRW (or CReW) plays with the idea of FS under canopy. CRW competitors dock to one another's canopies in order to make breathtakingly-beautiful "stacks" that they can steer and turn to parade across the sky. Camera flyers capture the formations whilst also under canopy and CRW teams are judged on their ability to complete a set of protocols within a specific amount of time. CRW dogs (which is what CRW practitioners are called) have much to accomplish before landing and so typically deploy their chutes upon exit and, not focused on freefall, jump at a lower altitude.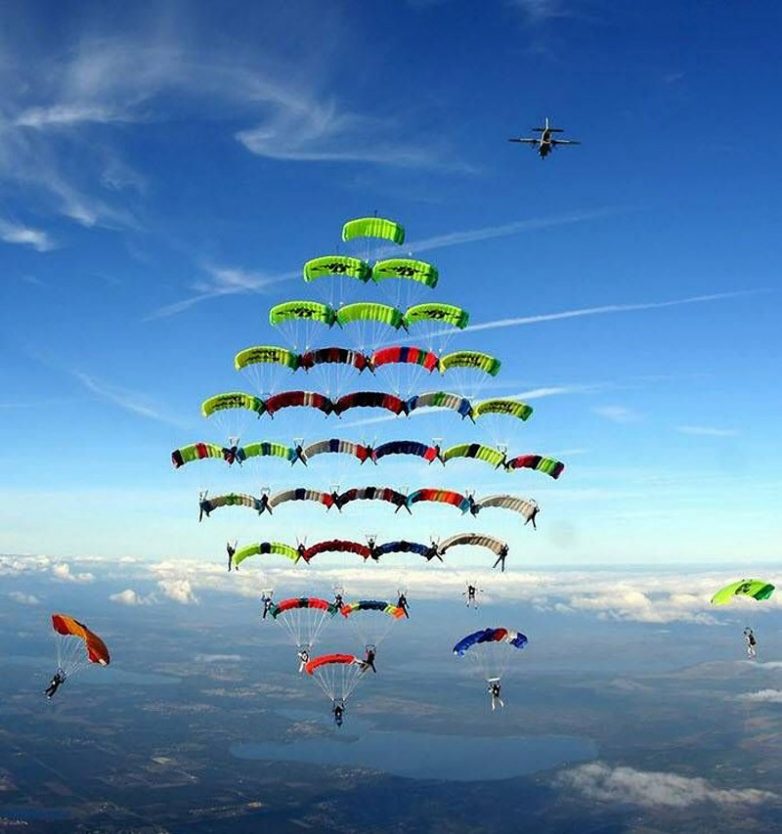 Skydiving competitions celebrating each of these types of skydiving disciplines and more can be found across the country. Each year, the USPA (United States Parachute Association) hosts a national competition that separates the sheep from the proverbial goats in every category, who then venture on to compete on an international stage.
The road to competition is long, and also super rewarding and incredibly fun. The first step to learning different types of skydiving, of course, is to learn how to skydive by completing the Accelerated Freefall Course and then practice, practice, practice, faithfully record your stats in your logbook and, should you decide competition is for you, find your coach and get to training! At Skydive California, we have numerous teams representing a variety of disciplines who either call our DZ home or pop in to enjoy our blue skies and awesome skydiving community. Join us!