Want to Have the Best Skydiving Experience?
You've come to the right place to learn the top tips to have the best skydiving experience. Find out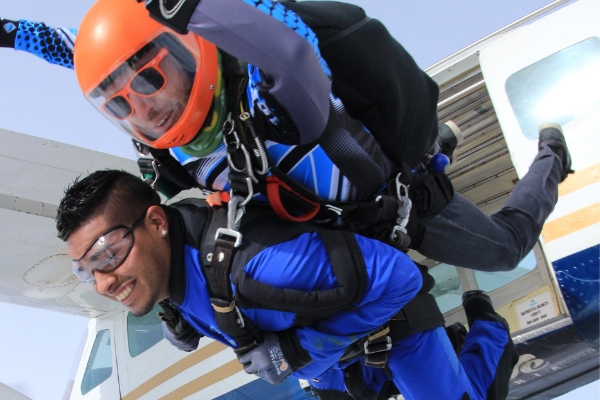 1. Get flexy
This is complicated stuff, aviation! Since we're talking about airplanes, you already know that there's a lot of logistical heavy lifting that goes into getting you into the air. Since you'll be nervous (and everyone is!), there's a chance that tensions will run high when things aren't moving as quickly as you'd like. Less than stellar conditions can cause weather holds and may possibly even — ugh, we know — result in the rescheduling of your jump. For your safety and the safety of everyone else in the plane, the clouds have to clear and the wind has to die down before we can do this thing.
As you work on cooling your jets, focus on the fact that we have your safety in mind. There's some prep that helps, too: We recommend that you leave your day's schedule open, just in case. Save yourself the nagging worry! Settle in and make a day out of it. Don't rush through this landmark experience.
2. Dress for success.
Appropriate attire can make or break your comfort experience when you do a skydive.
To rock your first-time skydive like a boss, choose close-fitting athletic clothing and lace-up sneakers. You'll want your clothes to fit under your skydiving jumpsuit without being bulky. Also: Since temperatures at altitude drop quickly, our best advice is to wear (or carry) several close-fitting thin layers. They'll work together to keep you nice and cozy on the ride to altitude (and in freefall).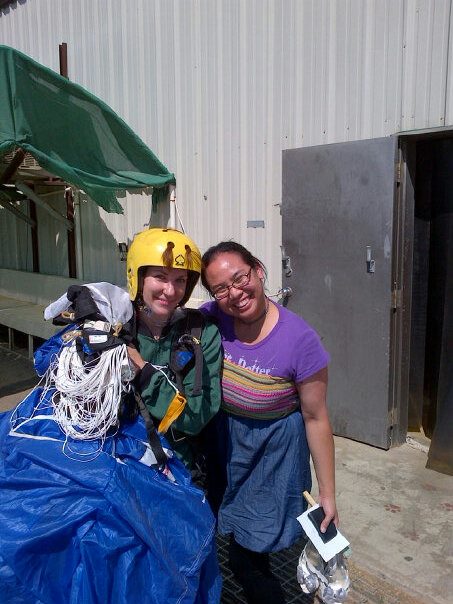 3. Eat and drink for success, too.
Acing your first skydive requires energy and hydration. Don't let your nerves cheat your body out of that super-important support! Eat a moderate, nutritious meal before you arrive at the dropzone and bring snacks in case you end up waiting out some clouds. (A managed blood sugar is key.) Pro tip: If you're super-nervous and don't feel like eating sip on a smoothie. You'll be so glad you did.
4. Don't go it alone.
You can certainly go skydiving alone, but you know what? You'll rock even harder if you bring a friend! Invite along a built-in support system to help you tackle this amazing new challenge. Having a treasured friend or family member (or, heck, the whole tribe!) can boost you up, calm you down and everything in-between. And check out the bonus: you'll have memories to share forever.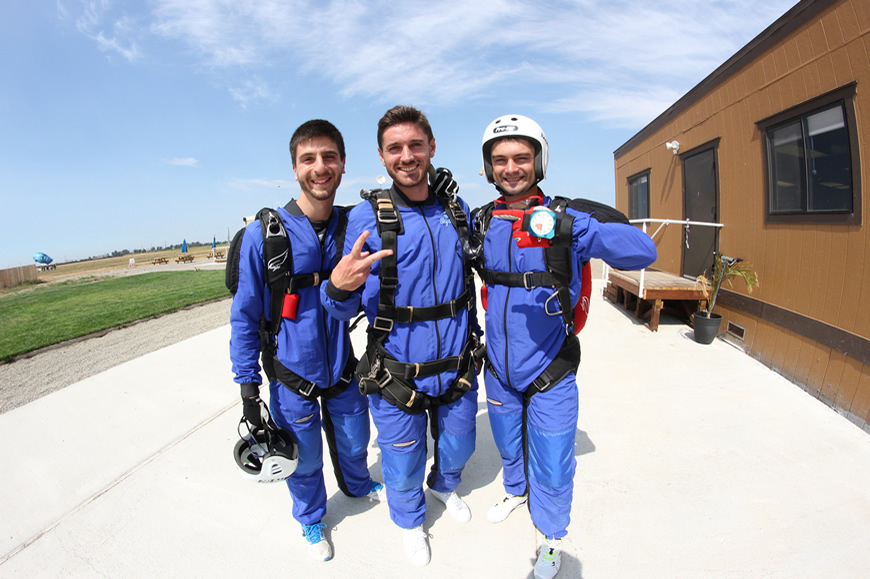 5. BREATHE.
This might seem obvious, but it's impossible to rock if you don't breathe. Breathing mindfully will help you get a handle on the fear and nervousness that come with the life-changing package of a skydive. To have the best skydiving experience, breathe deeply and focus on the moment. It's the first day of the rest of your life! Book your skydive today!