Ahhh winter: a time of being bundled up like a mummy, eyes peeking from a parka, freezing toes tingling, and an even colder nose running. Or is it? For many out there, this is a pretty fair description. Fair, that is, unless you are lucky enough to be near Skydive California.  You don't need to just grin and bear it, brave sub arctic temperatures only to be absolutely miserable in freefall (not to mention the 5 or so minutes you have during the parachute ride to the ground), or even delay scratching skydiving off your bucket list until the summer. You can comfortably skydive in winter at Skydive California.
Wait. Won't I freeze?
The fear of freezing is common concern when potential jumpers begin considering jumping in winter.  True, skydiving in December or January (or really skydiving in winter in general) is a BIG no go in many parts of the country.  Luckily, this is not the case here in beautiful Tracy, California. So, if you're wondering "can you skydive in the winter?" The answer is absolutely, positively yes! Not only can you skydive in the winter, but you can have a pleasant skydiving experience skydiving in winter in California.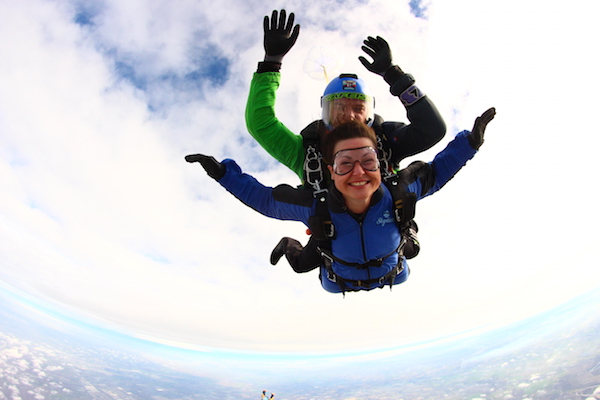 We're not pulling your leg.  While the rest of the country is probably bundled up, we've got it good. A lot of facilities can only have a seasonal operation. With our year-round mild weather, Skydive California is a prime destination for skydiving in winter. When skydiving in December, consider that the temperatures where we are in Northern California average in the high 50's, often reaching 60+, and it only chills down a fraction more in January. If you're cold natured, you may find it a little chilly. But it's nothing a few layers can't handle!
Still, hesitant about skydiving in winter? Don't be.  There are some definite benefits.
Great Time to Save
Keep the fun times rolling even on a budget.  Sure, you may have burnt out your funds with the holidays, but that doesn't mean a California skydiving vacay is out of the question. In fact, a great way to save money on a California skydiving vacation is to visit outside of the primary tourist season. During the winter, California hotels offer much lower hotel rates, and you can get a great trip for a fraction of the peak season cost.  Looking for more ways to save? Visit us during the week for a special rate.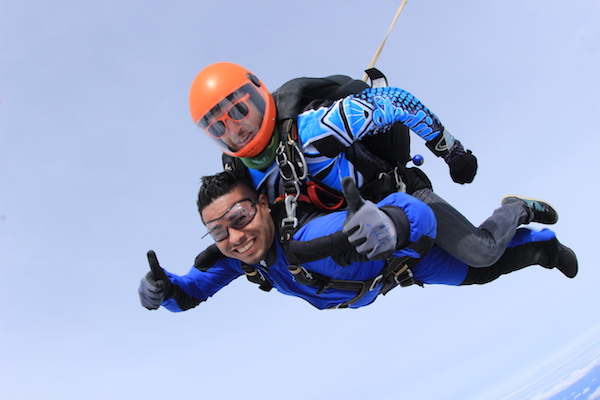 Avoid the Crowds
Tons of people flock to California in the summer for the surf and sand, but you'll find heading our way for skydiving in winter is perfect for those who prefer to avoid long lines and droves of tourists. See the sights of San Francisco without the crowds, and then catch a shuttle to our facility for your skydive.

Capitalize on Quality Time
If you're looking for a more personalized experience, skydiving in December is a great opportunity. Typically, there are a lower volume of jumpers skydiving in winter. This usually means less of a wait time for you and even more time for the instructor to spend with you debriefing after the skydive.
So, what do you say? Are you ready to escape your 'real winter' back home? Stop California Dreaming and join us for a skydive today!