What's the most memorable Valentine's gift you can give the apple of your eye? Look no further, dear reader, 'cause you've found it! Science has spoken, and experience gifts beat "stuff" gifts flat-out for memorableness (and, therefore, awesomeness)–and there's no more profound experience on the planet than the experience of a first-time skydive. Let's talk about why.
Memories Last Longer Than Things
You can't buy happiness. Right? Assuming that a longer-lasting thing will make more of an impression on your paramour than a one-time experience is an easy mistake to make. You want to present the necklace in the pretty turquoise box because a necklace will last longer than a few minutes. Right? Well: According to recent research, as crazy as it sounds, that assumption is completely wrong.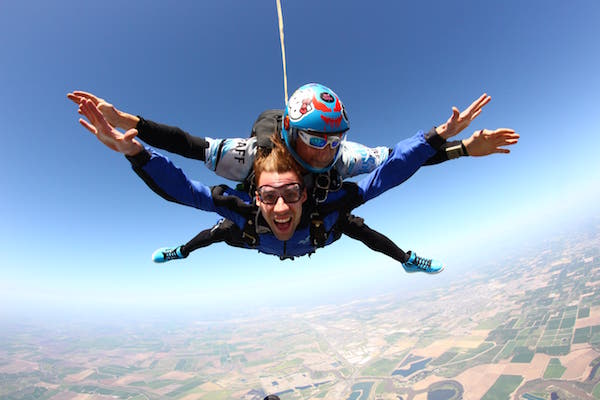 Physical Gifts Lose Their Appeal
Take it from Dr. Thomas Gilovich. Gilovich is a psychology professor at Cornell University, and he's been scientifically evaluating the question of money and happiness for more than two decades. According to Dr. Gilovich, that necklace becomes part of the emotional furniture before too much time has passed, and the reason why comes down to a single phenomenon: adaptation.
"We buy things to make us happy, and we succeed," Gilovich explains, "But only for a while. New things are exciting to us at first, but then we adapt to them." Sure: the fact of owning a pretty new thing does bring the recipient some subjective experience of happiness, but there's a glass ceiling to that happiness, and then adaptation kicks in, and life with the necklace is the new, unnoticed normal. (Another example: How long do you drive a shiny new car before you balance your coffee cup on the passenger seat?)
Here's the magic: with experiential purchases, that adaptation doesn't tend to happen. Counterintuitive? Definitely. But it's scientifically proven. Think about the last incredible experience you had. Compare that to the last "treat ya'self" purchase you made of over $100. Which still feels fresh?
Experiences Connect People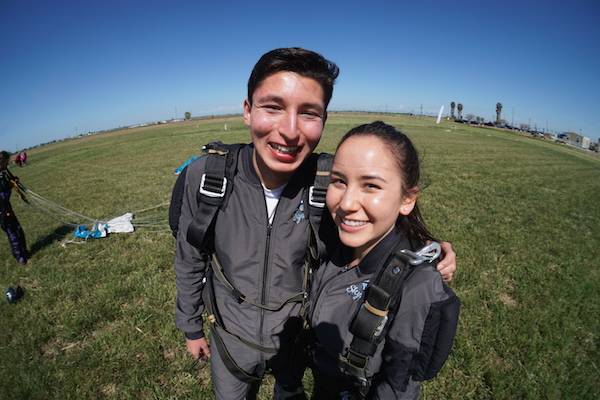 Hey, Valentine! We're not done with you yet. It follows that another key reason that experiences beat out stuff in the gifting department is that they're inherently connective. Sharing experiences with the people we love connects us more to the people we're next to than would the simple consumption of goods. Compare going out to a fancy dinner to going out to a theme park. Which makes you feel more like you're part of a team? The simple fact is that you're much more likely to retain a lasting connection to someone you went on a skydive with than someone who owns a watch you bought them two years ago. Sharing experiences writes you into another person's story, and if you're trying to co-author a love story, you'd better start putting pen to paper. N'est-ce pas, amour?
Wanna next-level your relationship? Come write a chapter at Skydive California! We'll help you give the best Valentine's Day gift you've ever given–one that keeps on giving for the giver and the giftee alike. And we'll help you finish that box of chocolates, too.